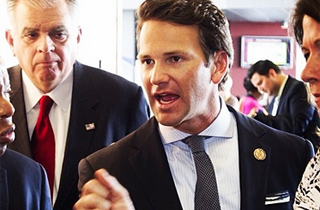 According to some very high-profile conservatives, Rep. Aaron Schock, the congressman known for his penchant for Downton Abbey and abusing his position in Congress for the sake of some high-end swag, should resign immediately.
To recap, because this is a long story: once upon a time, a Washington Post reporter discovered that Schock's office was lavishly decorated for free by an Illinois designer. After the media laughed at Schock's ornate office, they realized Hey, wait, Congressmen shouldn't be accepting $40,000 worth of free services, that goes against Congressional ethics laws — what else did he do? So they dug into his records — aided by Schock's Instagram account, of all things — and discovered that Schock frequently accepted free services, gifts, and trips worth many thousands of dollars, and often failed to report them. Moreover, he also billed his PAC and his congressional office thousands of dollars for extraordinarily frivolous things like "software" (read: a private jet to a Bears game), and "PAC fundraising" (read: tickets to a Katy Perry concert for his interns). In short, Schock lived a celebrity lifestyle on taxpayer money — and this is something principled conservatives do not like.
"I will not belabor the point," Red State's Erick Erickson began in a terse editorial. "Rep. Aaron Schock has proven himself incapable of handling his own money, the money of his donors, and taxpayer money. He has lived excessively off the backs of taxpayers who must be reimbursed and off of donors to whom he is now a servant."
Dismissing Schock as a "celebrity" who "lack[s] the necessary integrity to handle the power of the purse," Erickson suggested his next career move: "Perhaps Downton Abbey needs someone else to fill the role of an American playboy chasing a Crawley."
-RELATED: Aaron Schock Is the Worst Collection of Millennial Stereotypes in Politics
And the National Reviews' Charles W. Cooke piled on, with a longer article that was just as harsh. "Let's say it, aloud: Aaron Schock is a crook," he wrote, calling his taxpayer-funded high life "flatly incompatible with both his conservative rhetoric and the political presumptions of a free nation":
To learn that a man in Washington is unethical is usually to presume that he is breaking into hotel rooms or taking bribes. But one can be unsuitable for office without being Huey Long. Certainly, it seems rather unlikely that Schock is making shady backroom deals with cement companies; or, for that matter, that he is threatening to have his potential opponents killed. And yet, by treating Congress as if it were the Atlantic Records hospitality department in the summer of 1975, Schock has rendered himself unsuitable.
Last Friday, Schock held a press conference in which he promised to review his accounts and admitted that the "optics" of his Instagram account could spark questions about whether he was a responsible Congressman.
Today, Schock is hanging out at a microbrewery.
(He also plans on going to SXSW this weekend because whyyyyyyyyyyy.)
[h/t Politico]
[Image via Aaron Schock/Instagram]
—
>> Follow Tina Nguyen (@Tina_Nguyen) on Twitter
Have a tip we should know? tips@mediaite.com