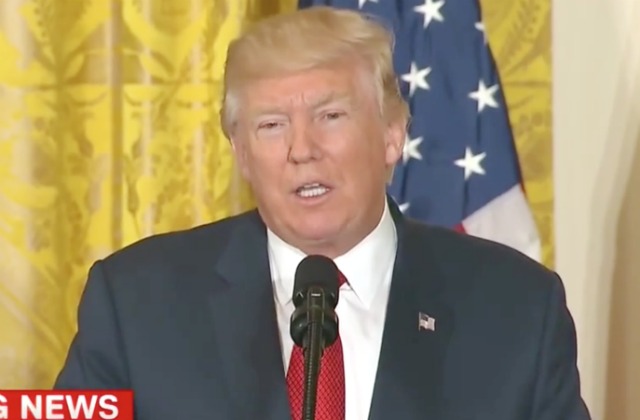 An NYU psychiatry professor compared President Donald Trump to Adolf Hitler at a Yale Medical School conference called, Thursday, to discuss the president's mental stability and fitness for office.
Dr. James F. Gilligan, a senior clinical professor of psychiatry at NYU Medical School, spoke at the town hall meeting of Trump's erratic and vindictive behavior as evidence that his presidency poses a serious danger to the American people.
"When you add all these elements," he said, "this is a class of people of whom Hitler is a member."
The meeting was called by Yale psychiatry professor Dr. Bandy X. Lee, head of a coalition of 800 mental health professionals, who warned the American people of Trump's mental state, New York magazine reported.
The group, dubbed 'Duty to Warn', has chosen to depart from a norm known as the Goldwater Rule — established by mental health organizations in 1973 — which prohibits psychiatrists and psychologists from diagnosing public figures without personally evaluating them.
According to the New York piece, Dr. Lee contends that unprecedented concerns led the group to be "sufficiently alarmed that they feel the need to speak up about the mental-health status of the president."
Dr. Charles Dike, a fellow Yale psychiatry professor, disagreed with Dr. Lee's group, arguing mental health professionals should adhere to the Goldwater Rule, per U.S. News & World Report.
The Thursday meeting, sparsely attended after the Yale sponsoring department pulled out, went ahead regardless of divisions in the faculty.
Speakers also included Dr. Judith Herman, author of the viral letter sent to President Obama after Trump's election expressing concerns over his mental stability.
UPDATE –– 9:58 pm ET: Mediaite has received the following statement from Yale:
"The panel at Yale School of Medicine abided by 'the Goldwater rule.' Eminent psychiatrists were invited to speak about whether there are other ethical rules that override it, as in ordinary practice. The organizer, Dr. Bandy Lee, agrees with the Goldwater rule, although she is troubled by its recent expansion (as of March 16, 2017) and the silencing of debate. She hopes that the public and politicians will understand that mental health issues are not to be used as a weapon. Dr. Charles Dike was a member of the panel, while psychologist Dr. John Gartner was not. The organizer emphasizes that the event was independent and did not represent the views of Yale University or Yale School of Medicine."
Have a tip we should know? tips@mediaite.com
Aidan McLaughlin - Editor in Chief