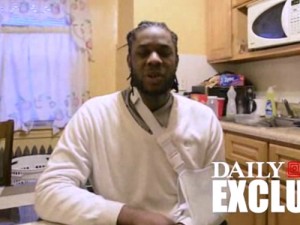 A college student from Queens claims that New York City police wrongfully profiled, beat and arrested him for walking a dog without a leash.
According to the New York Daily News, Nicholson Gregoire was walking his five-month-old pit bull puppy when he noticed a stop-and-frisk in progress. That's when one of the officers remarked that Gregoire's dog, Blue, didn't have a leash. The officer asked the 25-year-old for his ID.
Gregoire didn't have his ID on him, so the officers accompanied him to return to his home so he could retrieve it. They accompanied him to the address and waited outside. That's when things got ugly.
"The police are alleging that my client answered the door and dragged them inside, to justify coming into the house," said attorney Mark Crawford. "They had no basis to enter the premises."
The cops also accuse Gregoire of refusing cooperate once inside the house. Meanwhile, the young man and his family say otherwise — alleging that the two officers repeated knocked on the door until his grandparents answered, at which point they barged in and tackled Gregoire.
All the while, the victim's girlfriend recorded the entire exchange on video with her cellphone.
"I immediately knew where this was going," Gregoire told the NY Daily News. "I've been watching the video over and over. I didn't use any foul language. I don't think I should have been arrested in my home for walking my dog. I was scared for my life. They have the guns."
Gregoire did put one of the officers into a chokehold after they accosted him. He claims not to remember this, but the officers' complaint and the video confirm it.
Check out the video here.
[h/t New York Daily News]
[Image via screengrab]
— —
>> Follow Andrew Husband (@AndrewHusband) on Twitter
Have a tip we should know? tips@mediaite.com