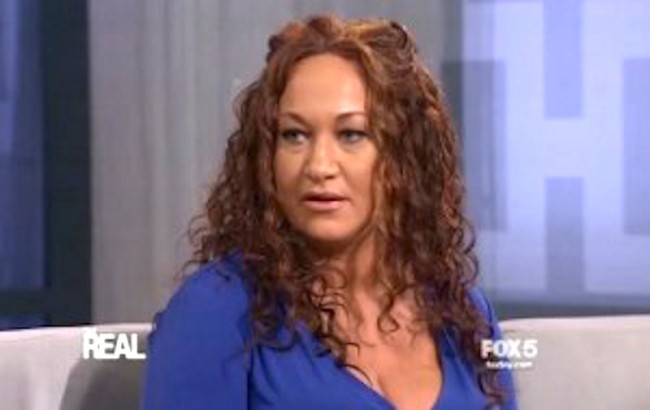 Remember Rachel Dolezal? You know, the white woman who pretended to be black while holding a leadership position with her local NAACP chapter before being exposed by a reporter? Following that infamous encounter, Dolezal became a huge national story, eventually losing her university teaching position, NAACP post, community activist assignments, and newspaper column.
Well, she's back in the spotlight. Um, sort of.
Nearly two years after briefly becoming one of the most infamous people in America, Dolezal was interviewed by The Guardian, and revealed that she is destitute and unable to find a job in her hometown of Spokane, Washington.
Today Dolezal is jobless, and feeding her family with food stamps. A friend helped her pay this month's rent; next month she expects to be homeless. She has applied for more than 100 jobs, but no one will hire her, not even to stack supermarket shelves. She applied for a position at the university where she used to teach, and says she was interviewed by former colleagues who pretended to have no recollection of having met her. The only work she has been offered is reality TV, and porn. She has changed her name on all her legal documents, but is still recognised wherever she goes. People point at her and laugh.
Dolezal pointed out that she wrote a memoir, but it was rejected by 30 publishers before finally being picked up. She attributed this to what she felt was an overriding narrative about her.
"The narrative was that I'd offended both communities in an unforgivable way, so anybody who gave me a dime would be contributing to wrong and oppression and bad things," she explained. "To a liar and a fraud and a con."
Elsewhere in the interview, Dolezal provided some commentary on whether or not she believes some black people have a hard time believing whites can suffer and struggle.
"I think there's definitely a stereotype of white privilege, and that stereotype gets expanded to mean rich, not oppressed, not suffering, et cetera," Dolezal stated. "And yes, it's a misperception." Back in June 2015, shortly after being exposed as white, Dolezal stated that she wasn't white but did have white privilege.
[image via screengrab]
—
Follow Justin Baragona on Twitter: @justinbaragona
This is an opinion piece. The views expressed in this article are those of just the author.