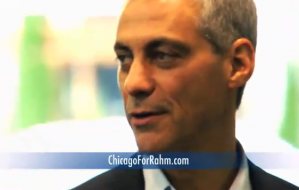 Rahm Emanuel's first TV spot, set to air tomorrow, has been released on YouTube. It's called "Tough," which is meant to refer to the "tough decisions" that his home city of Chicago faces — but also, no doubt, to reinforce Rahm's reputation as a tough guy, one who has already walked the walk.
Still, it's a walk from the West Wing to the Rose Garden, not necessarily down Michigan Avenue. So Rahm opens with a reminder that he's a Chicagoan, born and bred: "Chicago is a great city with great people, and I want my children to feel as passionate about the city as I did growing up." While he speaks on the voiceover, we see him meet and shake hands with people from all walks of life* from the streets to the subways to a diner. Rahm is styled casually, seen for the most part in a jacket but no tie (and when he is seen in a tie, it's without a jacket).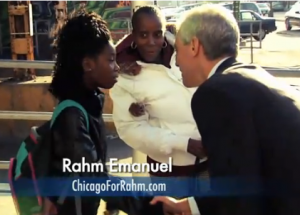 The message: He's not some Beltway suit, he's one of you (even if he's a tad grammatically challenged: "We face big challenges from our schools, our streets, to our businesses where people can get a job").
It's actually a great ad – simple, plainspoken, and with enough footage of Rahm pounding the pavement to show that this wasn't just shot in one day (though clearly a lot of it was, unless he wears that navy jacket a lot). He's also refreshingly candid, saying: "We've gotta decide whether we're gonna continue to be a great city, or become a second-tier city. I think it's time to make that choice, and to make the tough decisions that are necessary." Political rhetoric usually errs on the side of "this is a great city! and does not suggest there is a real danger of slipping to — gasp! — second tier (this also smartly appeals to city status anxiety). I don't live in Chicago so I don't know how it will go over (if at all!), but it seems to be a good, down-to-earth first outing. Watch it below:
*No doubt there will be a few hand sanitizer jokes — I put my reference as an asterisk and not a parenthetical because that detail, an early anecdote in the Rahm-for-Chicago narrative, is actually entirely common to politicians working the rope line, including and not limited to Barack Obama, Dick Cheney and John McCain. So while it is fair to point out, it is unfair to point it out without any context.
**Via Jonathan Martin (@JMartPolitico) via Ben LaBolt (@BenLaBolt): "Our first TV spot: http://www.youtube.com/watch?v=EnEiBKJIvWI. On air tmmw."
Have a tip we should know? tips@mediaite.com