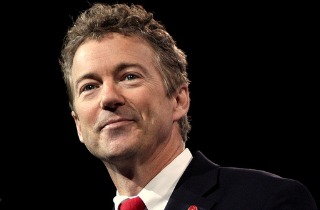 Out of all the GOP presidential contenders, Sen. Rand Paul (R-KY) has been one of the few who made a concerted effort to reach out to the African-American community, speaking at historically black colleges and universities, meeting with community leaders, and, when the situation in Ferguson, Mo. blew up this summer, penning a strong op-ed that called for the demilitarization of the police, and acknowledged the litany of problems faced by young black men.
Which was why his comment on the Freddie Gray riots, made during an appearance on The Laura Ingraham Show, was widely seen as a step or five backwards for Paul. Via Politico:
"I came through the train on Baltimore last night," Paul told host Laura Ingraham. "I'm glad the train didn't stop."

The senator's breezy response came just before he blamed the violent uprising there on "the breakdown of the family structure, the lack of fathers, the lack of sort of a moral code in our society." He also expressed his sympathy for "the plight of police," all without speaking to the circumstances surrounding the troubling death of Freddie Gray in the custody of Baltimore Police.
After some backlash, particularly from the black leaders he went out of his way to court, Rand's camp admitted that his wording had been particularly off. "We recognize how it may have sounded to some people," senior advisor Elroy Sailor told Politico. "We're listening and learning every day and we learned from this. We're also leading this conversation."
[Image via Shutterstock]
— —
>> Follow Tina Nguyen (@Tina_Nguyen) on Twitter
Have a tip we should know? tips@mediaite.com