Randy Quaid Seeks Refugee Status In Canada To Protect Him From 'Star-Whackers'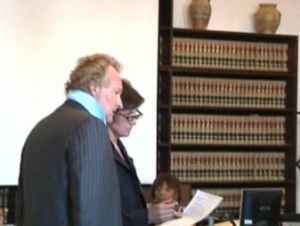 For those of you who haven't been following the bizarre legal struggles of Randy Quaid and his wife Evi and who want their future viewings of National Lampoon's Vacation to remain unsullied, I'd suggest clicking away now. There most recent brush with police happened when they were arrested last week for immigration violation. They were released on bail but only after asking for refugee status to protect them from something called "Hollywood star whackers." Yes, that literally means people killing celebrities. Man, Cousin Eddie is getting less funny by the day.
The request came in the form of a handwritten note that was delivered by their lawyer. It read "Yes, we are seeking asylum from Hollywood star whackers."
From CTV News:
"Outside the hearing, the Quaids' lawyer read a statement saying the couple was seeking asylum from "Hollywood star-whackers."

The couple said that they fear for their lives in the U.S., and Evi claimed that nine close friends of her husband have recently been murdered, including actors David Carradine, Heath Ledger and Chris Penn. Carradine was found hanging by a rope in a hotel room in Thailand last year, Ledger died of an overdose of a mix of prescription medications in 2008 and Penn died of heart disease in 2006."
So we've got too choices here and they're both pretty awful. Either a likable star who has won and Emmy and been nominated for an Oscar is having some kind of paranoid mental break down, or there actually is some kind of secret conspiracy going around murdering a super bizarre group of disparate actors. While the second choice would make for an awesome plot for a movie, neither one is very pleasant in real life.
Watch a news report on the story below from CTV News.
Have a tip we should know? tips@mediaite.com