Flabbergasted: Rapture Predictor Harold Camping Reveals That He's 'Looking For Answers'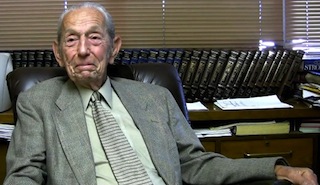 Well, this weekend, the day everyone had been eagerly awaiting finally arrived. No, not the Rapture on May 21st, the post-"Rapture" schadenfreude of May 22nd. Ever since Family Radio's Harold Camping first began predicting the world would end this week, people were predicting how he would handle thing when it, y'know, didn't end. And after keeping himself, locked in his California house with the shades drawn, Camping finally spoke to a reporter from the San Francisco Chronicle to say that it had been a "really tough weekend."
From the San Francisco Chronicle
But on Sunday, almost 18 hours after he thought he'd be in heaven, there was Camping, 'flabbergasted' in Alameda, wearing tan slacks, a tucked-in polo shirt and a light jacket.

Birds chirped. A gentle breeze blew. Across the street, neighbors focused on their yard work and the latest neighborhood gossip.

'I'm looking for answers,' Camping said, adding that meant frequent prayer and consultations with friends.

'But now I have nothing else to say,' he said, closing the door to his home. 'I'll be back to work Monday and will say more then.'"
As for his organization, the Family Radio website has been completely redesigned as of this morning. Where it used to feature a big countdown clock and tons of Rapture-related images like an x'ed out number 2012, there is now nothing in any way to connect the group to the failed prediction. It's like it never happened.
But how about those people who believed Camping and will have an even harder time moving past the non-event? News stories like the Chronicle's are filled with quotes from believers who are all described as sighing and looking forlorn. The descriptions come across like those about football fans whose local team just got destroyed in the Superbowl.
Perhaps the best symbol for the mixture of depression and mockery is this amazing picture of from the New York Daily News.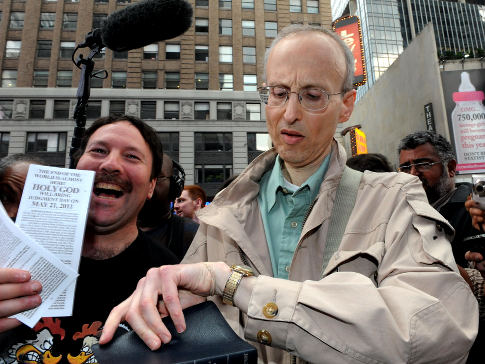 The picture is of Robert Fitzpatrick, the retired MTA worker who spent $140,000 of his own lifesavings to advertise Camping's prediction all over New York's subways. The Daily News followed him throughout Saturday and, thus, caught him as reality set in. In the picture you can see him checking his watch as a nonbeliever standing next to him laughs uproariously.
Gosh, sometimes it's easier to be in a suicide cult than one of these semi-cult religious groups. At least in the big ones, you're all too dead to hear anyone making fun of your matching sneakers.
Have a tip we should know? [email protected]