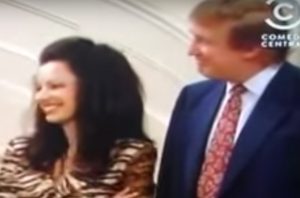 Earlier today, we told you about the "fit" thrown by Donald Trump during his time on the set of The Fresh Prince of Bel-Air. It came from a Newsweek report that detailed his behavior during his string of appearances on television in the 1980s and 1990s.
Making a mess on-set and expecting his wife to clean it up was bad, yeah, but what was alleged about his appearance on The Nanny in 1996 is also shocking, especially in light of all of the sexual assault allegations against him and his numerous references to how attractive young — often very much underage — girls are. Reportedly, he hit on the 19-year-old caretaker of 11-year-old actress Madeline Zima.
From the Newsweek report:
Madeline Zima, the actress who played young Grace Sheffield, doesn't remember interacting with Trump—she was just 11—but does say he managed to hit on her 19-year-old cousin, her legal guardian at the time. (The cousin did not respond to several requests for comment.)
Granted, Zima was 11 at the time and the cousin couldn't be reached for further comment, so that tidbit is more dubious than others (for now). There is something more concrete — with physical proof — to be found, however! He was described by writers as "really arrogant" and he reportedly made them rewrite jokes to highlight his wealth. Here is the story, from co-creator Peter Marc Jacobson:
We sent the script to Mr. Trump, and in return I got a message from casting that said, "Mr. Trump has a problem with the line above: 'Do all you handsome millionaires know each other?'" I was actually impressed and thought, "Isn't it nice that he's humble and doesn't want to call himself a millionaire?" Then I read the rest of the note, and it said, "Since he's a billionaire, he would like the line changed accordingly."
Jacobson framed the note. You can see it by clicking over to the report here.
[image: screengrab]
Have a tip we should know? tips@mediaite.com