Read The Full Oral Arguments From Today's Supreme Court Hearing On Same-Sex Marriage Case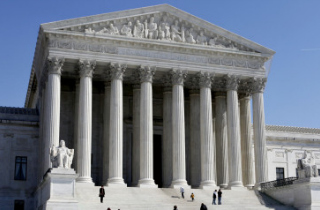 We likely won't know the results of Hollingsworth v. Perry until June, but until then we can read the full transcript of the oral arguments for the Supreme Court's hearing on California's Prop 8 law prohibiting same-sex marriages.
Some of the more newsworthy sound-bites have already made their way onto cable news. For instance, at one point potential "swing-vote" Justice Anthony Kennedy made the case that perhaps the children of same-sex couples deserve to be a factor in the ultimate decision:
We have five years of information to weigh against 2,000 years of history or more. On the other hand, there is an immediate legal injury or legal — what could be a legal injury, and that's the voice of these children. There are some 40,000 children in California, according to the Red Brief, that live with same-sex parents, and they want their parents to have full recognition and full status. The voice of those children is important in this case, don't you think?"
At another point, Chief Justice John Roberts compared the state recognition of same-sex marriages to the act of forcing children to call another person their friend:
"If you tell a child that somebody has to be their friend, I suppose you can force the child to say, this is my friend, but it changes the definition of what it means to be a friend. And that's it seems to me what the — what
supporters of Proposition 8 are saying here. All you're interested in is the label and you insist on changing the definition of the label.
Want to find all the other interesting little snippets? Turn on your fireplace, grab a warm sweater and some coffee, cozy up with this massive document, and play the guessing game until June.
Read the full transcript below, via SupremeCourt.gov:
— —
>> Follow Andrew Kirell (@AndrewKirell) on Twitter
Have a tip we should know? tips@mediaite.com