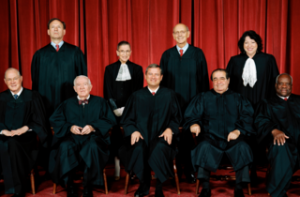 Since news broke that Supreme Court Justice Antonin Scalia died on Saturday, the responses were immediately very matter-of-fact and political, and, in some cases, sort of offensive. After all, this is an election year and the appointment of the next judge will have major implications for the next president and the people of the country.
While pundits, newscasters, bloggers, and politicos have been debating the impending appointment and discussing what a SCOTUS minus one will mean for cases that are set to be decided on in the next few months, the remaining Justices chimed in with a reminder of the humanity of Scalia's death. They have all released statements to the official SCOTUS blog.
Chief Justice John Roberts kept his statement concise while Justices Anthony Kennedy and Ruth Bader Ginsburg waxed more poetic.
Said Kennedy:
In years to come any history of the Supreme Court will, and must, recount the wisdom, scholarship, and technical brilliance that Justice Scalia brought to the Court. His insistence on demanding standards shaped the work of the Court in its private discussions, its oral arguments, and its written opinions.

Yet these historic achievements are all the more impressive and compelling because the foundations of Justice Scalia's jurisprudence, the driving force in all his work, and his powerful personality were shaped by an unyielding commitment to the Constitution of the United States and to the highest ethical and moral standards.

In the fullness of time Justice Scalia's beautiful family will be sustained by the force and dynamism of his intellect and personality, attributes that were so decent and so powerful; but now they mourn. We give them assurances of our deepest sympathy and our lasting friendship.
Said best friend Ginsburg:
Toward the end of the opera Scalia/Ginsburg, tenor Scalia and soprano Ginsburg sing a duet: "We are different, we are one," different in our interpretation of written texts, one in our reverence for the Constitution and the institution we serve. From our years together at the D.C. Circuit, we were best buddies. We disagreed now and then, but when I wrote for the Court and received a Scalia dissent, the opinion ultimately released was notably better than my initial circulation. Justice Scalia nailed all the weak spots—the "applesauce" and "argle bargle"—and gave me just what I needed to strengthen the majority opinion. He was a jurist of captivating brilliance and wit, with a rare talent to make even the most sober judge laugh. The press referred to his "energetic fervor," "astringent intellect," "peppery prose," "acumen," and "affability," all apt descriptions. He was eminently quotable, his pungent opinions so clearly stated that his words never slipped from the reader's grasp.

Justice Scalia once described as the peak of his days on the bench an evening at the Opera Ball when he joined two Washington National Opera tenors at the piano for a medley of songs. He called it the famous Three Tenors performance. He was, indeed, a magnificent performer. It was my great good fortune to have known him as working colleague and treasured friend.
Justice Clarence Thomas called Scalia "a good man" and Justice Stephen Breyer affectionately referred to him as Nino, as did Justices Sonia Sotomayor and Elena Kagan. Breyer then said he was "a legal titan." Meanwhile, Justice Samuel Alito wrote his statement on behalf of himself and his wife, signaling that Scalia —  the only Justice to out-rank him on a very technical "sarcasm scale" — was a friend beyond the courtroom.
For more, including bonus statements from retired Justices Sandra Day O'Connor and John Paul Stevens, click here.
The statement are important to keep in mind  because while Scalia was often controversial and fodder for humorous backlash, he was also a person who was loved by colleagues, friends, and family, and who will be missed.
[image via screengrab]
For more from Lindsey, follow her on Twitter.
Have a tip we should know? tips@mediaite.com