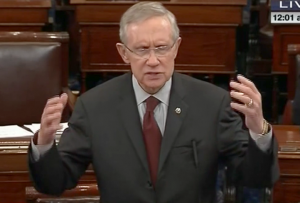 Let the circular firing squad begin. In a report by the Washington Post David Krone, chief of staff of dethroned Senate Majority Leader Harry Reid (D-NV), tossed the Democrats' brutal midterm odds at the feet of President Barack Obama, arguing the White House undercut Senate fundraising efforts while saddling candidates with his unpopularity.
"The president's approval rating is barely 40 percent," Krone told the Post in the days before the election. "What else more is there to say? … He wasn't going to play well in North Carolina or Iowa or New Hampshire. I'm sorry. It doesn't mean that the message was bad, but sometimes the messenger isn't good."
Krone characterized working with the White House as "difficult" and gave voice to Democratic resentment that Obama's electoral operation is more for his benefit than the party's. "I don't think that the political team at the White House truly was up to speed and up to par doing what needed to get done," he said.
He also caviled that Democratic candidates were weighed down by Obama's policies, or, in some cases, their implementation. "No member of the Democratic caucus screwed up the rollout of that health-care Web site," Krone said. "Yet they paid the price — every one of them."
Sure enough, the White House fired back at Krone, alleging — anonymously, of course — that Krone was "complicating things significantly in our ability to work with the Senate."
[h/t The Hill / Washington Post]
[Image via screengrab]
——
>> Follow Evan McMurry (@evanmcmurry) on Twitter
Have a tip we should know? tips@mediaite.com