Donna Brazile Comes Undone After Midterms: 'Get Ready to Kick Their Asses Out'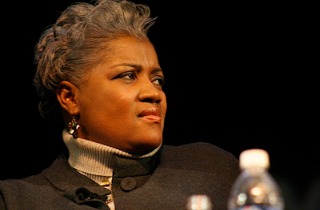 No doubt, Democrats took big hits during Tuesday's midterm elections across the country, with Republicans taking control of the Senate and picking up seats in the House. Democratic National Committee Vice Chairwoman Donna Brazile aired some of her frustration out the following day.
On Twitter, Brazile seemed to lose it a little, in the same way that you might punch a wall after losing a promotion to a coworker. She took particular aim at Sen. Rand Paul (R-KY), who has been needling Democrats who lost despite receiving campaign help from potential 2016 presidential candidate Hillary Clinton.
"Senator Rand Paul is spending his TV time trying to mock Hillary Clinton for helping her Democratic colleagues. I'm glad she helped us out," Brazile wrote.
She then blamed the GOP wins on money in politics. "So, gloat as much as needed, but the same GOP establishment that bought this election, will buy 2016 without Rand Paul as the nominee," she said.
And then, the fire insider her obviously growing: "This too shall pass. So, let's learn from our mistakes, let the dust settle and get ready to kick their asses out of office in two years!"
This type of meltdown has been seen before (on live television, no less). Brazile will hopefully take a deep breath and start fresh once her grief has subsided.
She seems to be on her way. "The Bible states that 'weeping may endure for a night, but joy comes in the morning,' she tweeted on a high note. "Progressives must find time to reclaim our joy."
Senator Rand Paul is spending his TV time trying to mock Hillary Clinton for helping her Democratic colleagues. I'm glad she helped us out.

— Donna Brazile (@donnabrazile) November 5, 2014
So, gloat as much as needed, but the same GOP establishment that bought this election, will buy 2016 without Rand Paul as the nominee.

— Donna Brazile (@donnabrazile) November 5, 2014
This too shall pass. So, let's learn from our mistakes, let the dust settle and get ready to kick their asses out of office in two years!

— Donna Brazile (@donnabrazile) November 5, 2014
The Bible states that "weeping may endure for a night, but joy comes in the morning." Progressives must find time to reclaim our joy.

— Donna Brazile (@donnabrazile) November 5, 2014
Have a tip we should know? tips@mediaite.com