Relive The Magic Of Mediaite's 'Privacy, Security, And The Digital Age' Event Over & Over Again (FULL VID)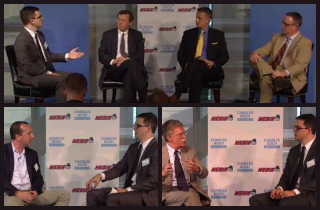 In case you missed it last night, Mediaite held its first major panel event, sponsored by the Charles Koch Institute and hosted by the Newseum.
The hour-long conversation, billed "Privacy, Security, and the Digital Age," tackled some tough questions about government surveillance, Big Data, and the future of privacy in an increasingly digital world. We've provided video of the entire event below, so that you can relive the magic over and over again.

The first portion of the event was a one-on-one conversation between yours truly and former U.S. Ambassador to the U.N. John Bolton, discussing his hardline stance on government surveillance and his belief that journalists have a "patriotic" responsibility not to leak sensitive information during times of war.
As my colleague noted last night, Bolton made a few controversial statements, including his belief that there's no such thing as a "privileged" designation for "journalists" in regards to how government conducts surveillance operations.
Watch below:
Bolton was followed up by the American Civil Liberties Union's Ben Wizner, who tackled many of the same questions from the opposite perspective. As Wizner noted, if the government is so confident that their current surveillance operations are perfectly legal, why do they fight tooth and nail preventing constitutional challenges from occurring?
Watch that conversation below:
And then came the panel, featuring Mercatus Center tech policy fellow Adam Thierer, Atlantic Media CTO Tom Cochran, and Bloomberg Gov policy analyst Michael R. Nelson. While Bolton and Wizner addressed concerns about government surveillance from polar opposite perspectives, our panel weighed in on Big Data and the consequences of large companies scooping up our personal information. The conversation was informative and ultimately ended with an optimistic outlook on the empowerment of the consumer and the betterment of our digital experiences.
Watch below, part one:
And part two:
A special thank you, once again, to all who participated last night; to the Charles Koch Institute for sponsoring the conversation; and to the Newseum for hosting.
— —
>> Follow Andrew Kirell (@AndrewKirell) on Twitter
Have a tip we should know? tips@mediaite.com