Rep. Allen West: Obama's Deficit Speech Displayed "Third World Dictator-Like Arrogance"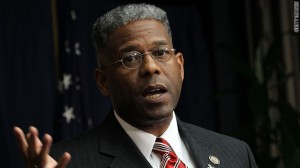 Republican Congressman Allen West spoke with Laura Ingraham today on her radio show and unleashed a series of tough remarks about President Obama. Declaring "they don't want to hear the truth" about the deficit or Obama's job performance, West didn't hold anything back with his criticism of the administration and left Ingraham laughing along the way.
West described why the Obama administration was shocked by the S&P warning over the US deficit:
"They're so used to having the cheering, adoring mainstream media that is nothing more than their own cast of cheerleaders, much the same as in an episode of Glee, and that's what they appreciate more than having real individuals sitting back and assessing this economic situation."
Ingrham agreed that Obama is in way over his head and joked if it's not the set of The View, then his administration gets angry with anyone who questions them. Yet West was just warming up, next turning his focus to Obama's deficit speech performance:
"What you continue to see is a third world dictator-like arrogance, that's what I saw in that speech last week. And look, Laura, to borrow a phrase from Reverend Jeremiah Wright, the chickens are coming home to roost. . . . This whole talk about shared prosperity I mean that really gives me the goosebumps because I'm starting to believe that a community organizer is nothing but a low-level socialist agitator."
With suggestions that Obama resembles both a third world dictator and a low-level socialist agitator, the comparisons themselves might leave one scratching their head, but there's little doubt that West is fired up and rhetorically ready to take on Obama's policies moving forward. No wonder some like Glenn Beck are hoping that West himself might run for President in 2012.
Listen to the clip below from The Laura Ingraham Show:

Have a tip we should know? tips@mediaite.com