Rep. Louie Gohmert Invokes Gabby Giffords Getting Shot as Reason Not to Hold Town Hall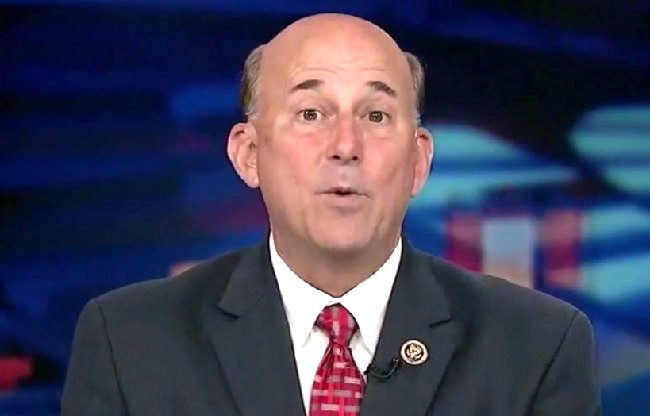 Over the past few weeks, one of the more intriguing political news stories has been the raucous town halls that Congressional Republicans have experienced back in their home districts. Cable news has been filled with scenes of House and Senate members being peppered with confrontational questions from constituents while overflow crowds cheer on questioners and jeer their representatives.
With Democrats and liberals in even the reddest districts organizing to attend these town halls, some congresspeople are now taking to skipping these in-person meetings with their voters, preferring to arrange conference calls and Facebook Q&A's.
When pressed by a group of demonstrators earlier this week on why he hadn't scheduled a public town hall, Rep. Louie Gohmert (R-TX) explained that his constituents already knew where he stood on issues like immigration and health care, so it was essentially pointless.
I feel confident there are very few voters who pay attention in the 1st Congressional District of Texas who don't know exactly where I stand on the issues and why — especially regarding the issue of Obamacare. In fact, in November, over a quarter of a million people were polled, and 73.9% said they agreed with me. I made clear for the last seven years that I would do all I could to repeal Obamacare. I was one of the few who read it before I voted.
Gohmert then stated that it was a safety issue why he wasn't holding a meeting with voters, specifically citing the shooting of a Congresswoman while also parroting a GOP/Trump Administration claim that many of these town hall attendees are paid protesters.
Unfortunately, at this time there are groups from the more violent strains of the leftist ideology, some even being paid, who are preying on public town halls to wreak havoc and threaten public safety. Threats are nothing new to me and I have gotten my share as a felony judge. However, the House Sergeant at Arms advised us after former Congresswoman Gabby Giffords was shot at a public appearance, that civilian attendees at Congressional public events stand the most chance of being harmed or killed — just as happened there. One Congressional friend had one of his district staff members knocked unconscious and hospitalized this past week after being overrun by a group intent on physical confrontation and disruption.
In his statement, the Texas lawmaker would also note that he can reach more voters through telephone town hall meetings, highlighting that it makes it easier for the elderly and disabled to participate. He pointed out that he'll eventually go back to having "civil town hall meetings" once the "threat of violence" subsides.
[image via screengrab]
——
Follow Justin Baragona on Twitter: @justinbaragona
Have a tip we should know? tips@mediaite.com