Report: Comcast Outage Cripples Internet Access Across Northeast Corridor (Updated)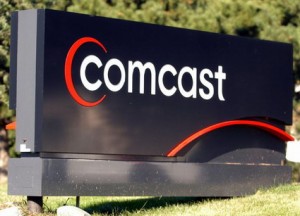 BreakingNews is reporting that a flurry of Twitter activity is suggesting a wide-range outing of Internet access throughout the Northeast corridor of the United States, simultaneously ruining the evenings of Sarah Palin obsessed bloggers and Fantasy Football participants. Fortunately, Mediaite has advice for out of pocket Comcast users (who, hopefully, are accessing this site via smart phone.)

Update – 11/29/10 – It appears the outage has been fixed: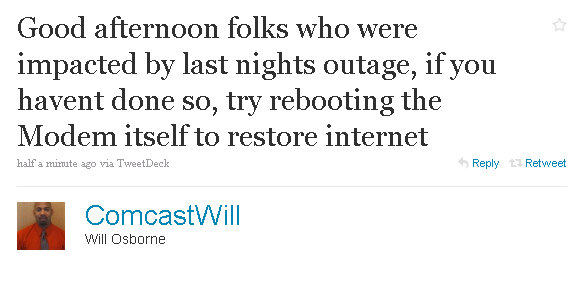 The twitter feed ComcastCares confirmed the outage: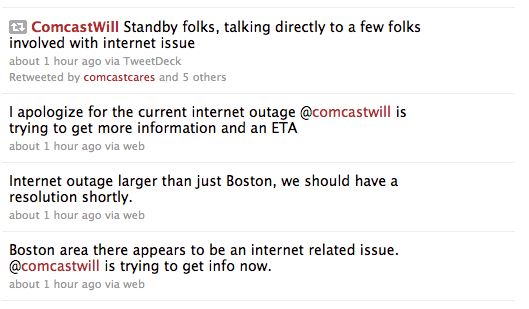 10:20 PM (EST) – 11/28/10 Update: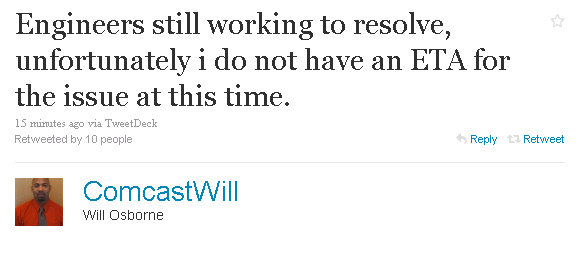 From The Baltimore Sun:
Officials at Comcast Sunday night said they did not know what caused disruptions in its Internet service to homes and businesses across the region but that they were working to restore service.

"We've identified the server issue and our engineers are working aggressively to resolve the matter," said Comcast spokesman Bob Grove, who apologized to those affected by the outage. "Additional staff have been brought in to resolve the interruption. Only Internet service has been affected, there are no video or phone issues. Everything is being done to restore service as quickly as possible."

Grove said that as far as he knew, the disruptions were regional and affecting users only in the Baltimore- Washington area; however, users of the micro-blogging site Twitter from as far away as Boston, told The Sun that their service was out. A different spokesman told The Sun's media partner WJZ-TV that there was also an outage in the Boston region.
From The Boston Globe:
By L. Finch, Globe Correspondent

Internet service is down for an unknown number of Comcast customers in Massachusetts tonight, according to the company.

The scope of the outage was not immediately available, but anecdotal reports suggested the interruption spanned from New England down to Washington D.C.

Telephone and cable service has not been affected by the problem, said Doreen Vigue, a Comcast spokeswoman. She said she could not provide any more details on the outage, but apologized on behalf of the company to affected customers.

"We're aware of the problem, and we're working aggressively to solve it," Vigue said. "We're bringing in as many extra people as possible to work on this."
From WMUR Channel 9, New Hampshire:
MANCHESTER, N.H. — Comcast subscribers across New Hampshire are dealing with a widespread Internet outage.

WMUR received several phone calls from customers and our sister stations in Massachusetts and Vermont have been flooded with calls as well.

Comcast only gave a brief statement Sunday night. "We're aware of the problem affecting some Internet customers. Our engineers are working aggressively to resolve it as soon as possible," Comcast said.

Comcast said it's aware customers in New Hampshire and Massachusetts are affected, however we've seen online Twitter reports indicating this internet outage is affecting a large part of New England and possibly the entire northeast.
If you are a Comcast user having problems, try the following change in your Internet DNS settings:
Change your DNS servers to 208.67.222.222 and 208.67.220.220 (OpenDNS.) This might solve your problem until Comcast DNS Service is restored, Good luck!
Click on the service for instructions on how to change: Google Public DNS or OpenDNS
Have a tip we should know? tips@mediaite.com