Report: Comcast Outage Cripples Internet Access Across Parts Of The Midwest (Updated)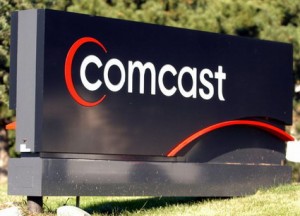 Twitter activity and news reports are suggesting a wide-range outing of Internet access in Illinois, Minnesota, Indiana & Michigan. This is Comcast's second major DNS outage. The last outage occurred on November 28th and impacted the Mid-Atlantic and Northeast, from DC to New Hampshire. Fortunately, Mediaite has advice for out of pocket Comcast users (who, hopefully, are accessing this site via smart phone).
Workaround fix at the bottom of the post.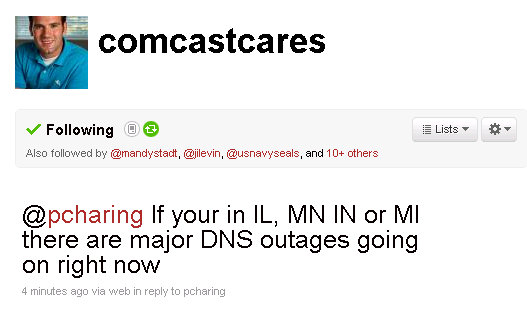 Comcast Internet outage affecting Chicago area
December 5, 2010 10:11 PM

Comcast officials said a widespread Internet service outage was affecting the Chicago area, Northwest Indiana, Southwest Michigan and Minnesota tonight.

The outage of high-speed Internet started at 7:30 p.m., said Angie Amores, a Comcast spokeswoman. The cause was being investigated, she said.

Officials did not have an estimated time of when the service will be restored, Amores said.

Amores said that cable and phone service were not been affected. Corporate officials were using Twitter to update customers on developments on the outage, she said.

William Gerth, an official from the Comcast corporate office in Philadelphia, said he was alerting customers via Twitter account @comcastcares with details about the outage. He said that engineers were working on a domain name system issue and suggested following the temporary solutions on the Twitter page.

As of 9:40 p.m., customers calling 1-800-Comcast were greeted by a recorded message saying that the company was experiencing technical difficulties and call later.

— Serena Maria Daniels
From The Chicago Sun-Times – 12/06/10:
Comcast Internet outage hits Midwest
Chicago, Northwest Indiana, parts of Michigan and Minnesota were affected by a Comcast Internet outage late Sunday night according to a rash of complaints on Twitter and confirmation from Comcast officials.

The outage of high-speed Internet service started at 7:30 p.m. and was fixed about midnight Monday morning.

The ComcastCares Twitter account stated that there was a problem with Comcast DNS servers, similar to an outage affecting the Northeast on November 29. A temporary workaround recommended users change their DNS servers to the Google 8.8.8.8 setting, explained further here, or other public DNS servers if the user is familiar with manual manipulation of these settings.

Cable and phone service were not affected.
If you are a Comcast user having problems, try the following change in your Internet DNS settings:
Change your DNS servers to 208.67.222.222 and 208.67.220.220 (OpenDNS.) This might solve your problem until Comcast DNS Service is restored, Good luck!
Click on the service for instructions on how to change: Google Public DNS or OpenDNS
Have a tip we should know? tips@mediaite.com