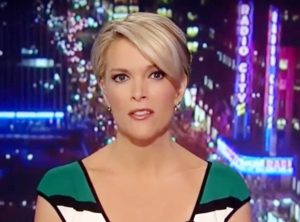 Megyn Kelly has been quite a focal point during this election season, for better or worse. Not only was she a media punching bag for Donald Trump for months, but she just so happens to be rumored to be the one who ultimately brought down Roger Ailes. Last but not least, with a contract expiring at Fox News, everyone has been wondering if Kelly will be moving to a new network. After all, she is developing a scripted show for Go90 and retained her first non-Fox publicist a few weeks ago. Oh, and she's co-hosting ABC's Live! morning show the day after the election. These don't sound like the actions of a woman who is planning not to make a big career move, do they?
Her demands for any future employer include a $20 million salary per year. Beyond that, her goal has long been to host a long-form interview show similar to what Oprah built her career around. According to Vanity Fair, though, all of that might not be what other networks have in mind:
But so far, the purported auction for Kelly's services has not come to fruition. One CNN insider explained, "of course we would love to have her," before noting that poaching Kelly, given the likely cost of her contract, "is not something we are seriously considering." Instead, this person elaborated, CNN is investing more in documentary-style programming after the election. "I don't believe anyone is pursuing her other than Fox at this point," said one ABC insider. A source close to CBS said that they are not making an offer, either. (The person close to Kelly noted that discussions with rival executives were ongoing.)
Rupert Murdoch, for his part, has made it known that he wants Kelly to remain with Fox. That likely has something to do with her show being the second most highly rated on cable news.
[image: screengrab]
Have a tip we should know? tips@mediaite.com