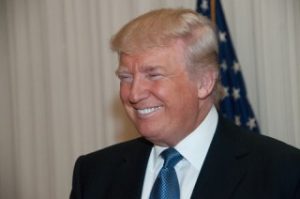 Despite his concerted effort to brand his opponent as "crooked" and his populist-outsider posture, Donald Trump was instrumental in setting a legal precedent that made it easier for Wall Street banks to get away with fraud, according to a new International Business Times report.
David Sirota and Avi Asher-Schapiro report:
Trump notched a victory for himself and the financial industry by convincing judges that his own fine print warnings meant he had not deceived investors when he lured them to bet — and ultimately lose — hundreds of millions of dollars on one of his riskiest development projects. The real estate mogul known for his litigiousness helped Corporate America secure a ruling making it harder for investors to file lawsuits.
In 1993 Trump's investors took him to court, alleging that, while soliciting investors for his Taj Mahal casino, he had deceived them about his own net worth and concealed information about the project's likelihood of success. The casino ended up filing for bankruptcy, and his investors were left holding the bag.
"Investors argued that in order to entice them, Trump overstated his net worth, omitted key cautionary information and used fantastical revenue estimates — a situation they said set them up to get fleeced," IBT writes.
Specifically, Trump's investors alleged that Trump's representatives "intentionally, recklessly, or negligently, overstated and misrepresented the financial and operating condition and prospects of Donald and his empire, including the Taj Mahal, intending to deceive [the] investing public."
Trump's attorneys didn't dispute any of that; they simply argued that the investors knew the casino was a risky gamble and therefore any information Trump may have withheld or misrepresented didn't matter.
The court agreed with Trump, and the fallout from the ruling helped to insulate big banks against securities fraud lawsuits — as long as they include sufficient language in their contracts about risk, a doctrine referred to as "bespeaks caution."
The case "remains a key reference point not only in case law, but also among corporate law firms advising clients about how they can protect themselves against aggrieved investors who claim they were ripped off," according to IBT.
You can read the complete report here.
Have a tip we should know? tips@mediaite.com