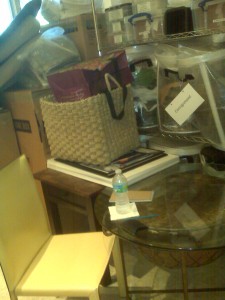 For anyone who thinks the press is too cozy with the Obama administration, here's a story about a reporter who learned that the only one he was getting cozy with was himself, tucked away in a storage closet. After being invited to cover a fundraiser for Vice President Joe Biden, Orlando Sentinel reporter Scott Powers was held in a closet because Biden's staff reportedly did not want him mingling with guests before Biden arrived. From The Orlando Sentinel:
Turns out the veep hadn't arrived, but about 150 guests (minimum donation $500) were already in the house. So to prevent Scott from mingling with the crowd, a member of Biden's advance team consigned him to a storage closet — and then stood outside the door to make sure he didn't walk out without permission.
When Biden and Florida Senator Bill Nelson finally arrived, Powers was released to listen to them speak for 35 minutes. Then after the speech, he was sentenced back to the closet, where he took this photograph (after all, he needed something to do to keep him busy) and where he served out his time for the remainder of the event. The confinement seems to have sharpened some of Powers' senses, if his pool report is any indication:
The 150 or so guests snacked on caprese crostini with oven-dried mozzarella and basil, rosemary flatbread with grapes honey and gorgonzola cheese and bacon deviled eggs, before being served a lunch of grilled chicken Caesar and garden vegetable wraps, croissants with roasted turkey breast and ham and Swiss cheese on ciabatta rolls.
Although Powers received an apology from the Vice President's office for the strange treatment, he said, "it was frustrating and annoying that I was not given a chance to do my job fully and properly."
Have a tip we should know? tips@mediaite.com