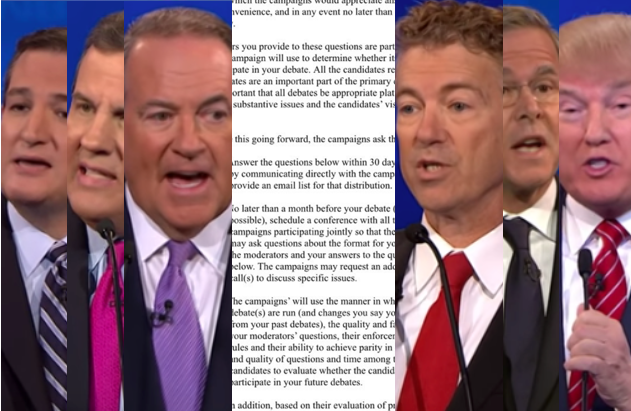 In the aftermath of last week's CNBC GOP Presidential debate, representatives from 12 Republican campaigns met Sunday to "reevaluate" future debate formats. At the meeting, lead Republican negotiator Ben Ginsberg facilitated the conversation, drafting questions for the RNC to send to potential network hosts.
In a first draft of the letter, obtained by a "source inside the room," Republican candidates ask networks to answer a range of questions about the time, location, camera angles, and even room temperature the network anticipates for the debate. Some highlights from that draft include:
Will there be questions from the audience or social media? How many? How will they be presented to the candidates? Will you acknowledge that you, as the sponsor, take responsibilities for all questions asked, even if not asked  by your personnel?
Will there be a gong/buzzer/bell when time is up? How will the moderator enforce the time limits?
Will you commit that you will not:

Ask the candidate to raise their hands to answer a question
As yes/no questions without time to provide a substantive answer
Allow candidate-to-candidate questioning
Allow props or pledges by the candidates
Have reaction shots of members of the audience or moderators during debates
Show an empty podium after a break (describe how far away the bathrooms are)
Use behind shots of the candidates showing their notes
Leave microphones on during the breaks
Allow members of the audience to wear political messages (shirts, buttons, signs, etc.). Who enforces?

What instructions will you provide the audience about cheering during the debate?
What are your plans for the lead-in to the debate (Pre-shot video? Announcer to moderator? Director to Moderator?) and how long is it?
Can you pledge that the temperature in the hall be kept below 67 degrees?
A finalized version of the GOP demands is currently circulating online, but no campaign has officially signed off on the draft.
Breaking: @daveweigel and I have obtained the updated draft letter to the networks, finalized this morning pic.twitter.com/JsVHVKDS8O

— Robert Costa (@costareports) November 2, 2015
[Image via screengrab]
—
>> Follow Elizabeth Preza on Twitter (@lizacisms)
Have a tip we should know? tips@mediaite.com