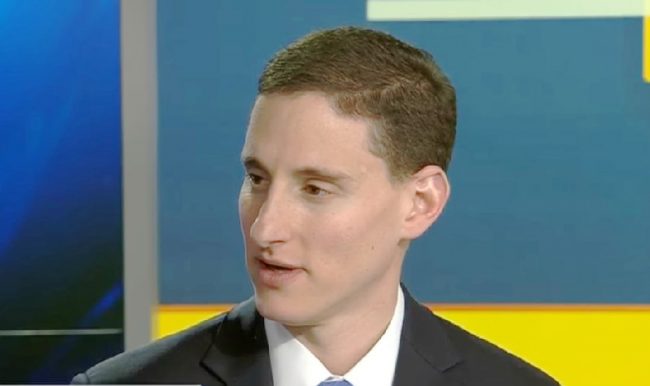 Ohio State Treasurer Josh Mandel decided to take to Twitter this morning to offer up his support for two infamous provocateurs who may be most known for pushing the crazed Pizzagate conspiracy theory. That debunked theory claimed Democrats were running a pedophile ring out of a nonexistent basement of a D.C.-area pizza restaurant.
Mandel, who is running as a Republican to unseat Sen. Sherrod Brown (D-OH), sent the following tweet in response to Mike Cernovich's blogpost about the Anti-Defamation League placing him and fellow far-right activist Jack Posobiec on a list of individuals associated with the alt-right:
Sad to see @ADL_National become a partisan witchhunt group targeting people for political beliefs. I stand with @Cernovich & @JackPosobiec https://t.co/N3nC78t4CS

— Josh Mandel (@JoshMandelOhio) July 20, 2017
After Mandel had sent out the tweet, Posobiec replied with a video he had previously tweeted out of him at Auschwitz, comparing the ADL to Nazi's by saying we need to remember the "last time people made lists of undesirables."
The @ADL_National would be wise to remember what happened the last time people made lists of undesirables pic.twitter.com/yZJ7VfPmb0

— Jack Posobiec ?? (@JackPosobiec) July 20, 2017
Besides being involved with spreading the Pizzagate conspiracy, Posobiec is known for using social media to draw attention to himself, such as his protest of the controversial New York production of Julius Caesar that featured an actor portraying Donald Trump in the feature role.
Meanwhile, Cernovich has kept himself busy lately railing about the proliferation of pedophiles in the "Deep State" and how they are drugging and blackmailing people.
We have reached out to Mandel's office for comment and will update if we hear back from them.
[image via screengrab]
—
Follow Justin Baragona on Twitter: @justinbaragona
Have a tip we should know? tips@mediaite.com