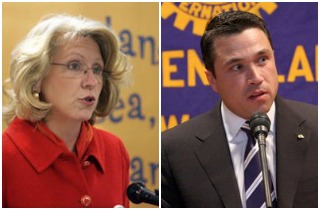 Two GOP candidates have sent out fundraising emails soliciting donations in connection with their opposition to Barack Obama's authorization for use of military force in Syria, both within twenty-four hours of forming their decision about the crisis. The two campaigns have since distanced themselves from the emails.
New York Congressman Michael Grimm, who has been busy since Thursday defending his switched vote on Syrian intervention to CNN's Jessica Yellin and Fox's Bill Hemmer, sent out a fundraising email Friday morning strongly condemning the strike and asking for a donation:
Today, I decided to withdraw my support from President Obama's proposal for a military strike against Syria. I have heard from many of you in Staten Island and Brooklyn, and it is clear to me that their is strong opposition to the strike. As your voice in Washington, I will continue to listen and take a stand for you.

Will you stand with me in opposing President Obama's plan with a donation of $25 or more right now?
Meanwhile, Michigan Senatorial candidate Terri Lynn Land sent out a fundraising email on Thursday asking supporters to sign a petition against the strikes—an email emblazoned with a Donate Now! button.
"The president has failed to show how this internal conflict in Syria affects our national security, and his proposed military strategy has proved ineffective in the past," Land wrote.
The email linked to a petition calling upon her opponent Gary Peters, currently a U.S. Representative, to "stand up to President Obama" and vote no on the authorization. Both the email and petition had a DONATE NOW button at the bottom.
Politico noted that Land had not announced a stand on Syria before Thursday, when the email went out and the petition appeared across the entirety of her Facebook page: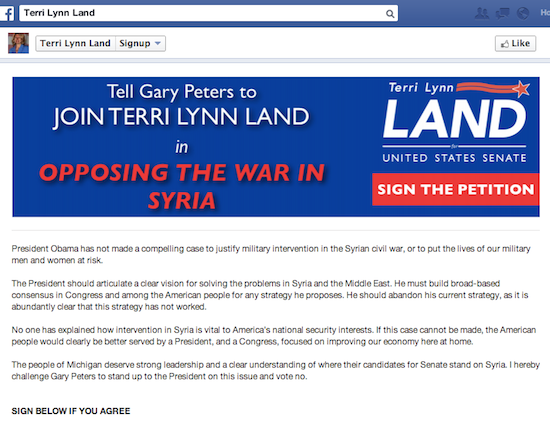 Both campaigns deny any direct link between the solicitation of funds and the national security content of the emails. "It was an email asking people to sign a petition urging Gary Peters to vote no on the war in Syria and happened to have a donation link like other emails we send to our email list," wrote Land's campaign consultant.
Grimm's campaign more explicitly condemned the inclusion, saying the donation section had been inserted by the vendor who sent out the email.
"The dollar ask was included automatically by the vendor, and was never approved by the congressman," Grimm's press secretary said. "He is furious over this inappropriate inclusion and has taken appropriate actions to ensure that this careless error never happens again."
——
>> Follow Evan McMurry (@evanmcmurry) on Twitter
Have a tip we should know? tips@mediaite.com