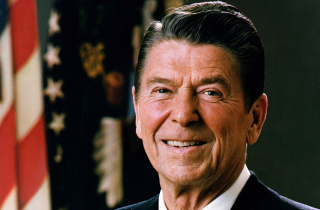 A quick tally shows that there are at least 100 things throughout the country named after Ronald Reagan, from schools, hospitals, streets, metro stations, and post offices, to nuclear aircraft carriers, and human beings. Weird human beings, perhaps.
All of those things are impressive, and certainly honor and further the vision of the greatest hero of the American century, sure, but they don't exactly match his towering, eternal presence like a mountain would. That's why GOP Rep. Joe Heck of Nevada — who knows a thing or two about the importance of a name, I'd wager — has presented a bill to name part of a mountain in his home state after the man who singlehandedly stared down the threats of Communism and regulatory oversight from the government, making the world a safe place for Freedom. Even better? The mountain's current name is Frenchman Mountain, which is, you know, a little socialist sounding, if you ask me.
Heck's bill was approved today by the House Natural Resource Committee, who oversee our country's greatest recourse of all: nostalgia.
Unmoved by Heck's romantic pining for the good old days, Democrats in the House made light of the bill. Per the Associated Press:
Democratic Rep. Pete DeFazio of Oregon said a more fitting tribute would be to name Yucca Mountain after Reagan. Steps taken to develop Yucca Mountain as a nuclear waste repository accelerated during Reagan's presidency…."If we were going to name something after the president, it ought to be something that actually had to do with the president's service in office, and something the president supported that was extraordinarily significant to the state of Nevada," DeFazio said.
Jared Huffman, a Democrat from California, upped the ante. Why not name the entire planet after Reagan, he suggested, then maybe Republicans might actually start worrying about how we're destroying it.
Consider this a proposal to rename both DeFazio and Huffman "Representative 4Chan," because that is some quality trolling.
— —
>> Luke O'Neil is a journalist and blogger in Boston. Follow him on Twitter (@lukeoneil47).
Have a tip we should know? tips@mediaite.com