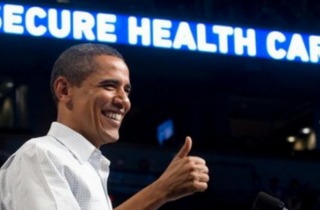 This is either a glaring admission of defeat from the White House or… no, that's really all it could be.
After weeks of defending the cancellation of health plans insurers discontinued in 2013 in order to comply with the Affordable Care Act's coverage mandates, the White House announced in November of last year that it was urging insurers to reinstate those plans. The catch was, of course, that most insurers would be unable to turn on a dime and reinstate those plans. Furthermore, the administration allowed individual states leeway to determine whether or not they would even allow insurers to reinstate those cancelled plans.
President Barack Obama's maneuver was more of a political solution than a policy fix, and a temporary one at that. But that appears to be changing.
"Avalere Health CEO Dan Mendelson said Thursday that the administration may let policyholders keep that coverage for an additional three years," the AP reported on Thursday.
While Mendelson apparently stressed that "no decision has been made" and that this suggestion arose as the result of "informal discussions" with the administration, this is merely the latest float that should terrify insurers who are increasingly on the hook for the added costs associated with covering the sick and infirmed without being able to compensate for those losses with additional revenues from the healthy.
RELATED: President Obama Announces 'Keep Your Plan' Fix: Permit One Year Extension of Cancelled Plans
The AP confirmed that this bombshell did not merely arise from Mendelson falling to accurately relate his conversation with Obama administration officials. Aetna Chief Financial Officer Shawn Guertin confirmed that he was also aware that the White House was considering a three year reprieve for those who lost their plans as a result of the ACA.
This AP report also includes an oblique reference to the ever-looming spiral of death, in which insurers are forced to boost premium rates to a point that forces more healthy people off of the exchanges – a self-perpetuating cycle.
"Now the administration is considering adding more years to this extension to avoid another wave of problems if rates on the exchange climb too high and people are left without an affordable coverage option," the AP writes. "Health insurers are supposed to submit by May the rates they want to charge on the exchanges next year."
If the White House pulls the trigger on this, they may mitigate the damage the ACA is doing to the Democrats' political brand. Perhaps they will even be able to save the Senate majority. But the stability of the ACA will be imperiled, the sense of permanence surrounding the law will be greatly reduced, and the likelihood that the law will be vulnerable to repeal when Obama leaves the White House will increase.
If you like your plan, it just might turn out that you really can keep it.
[Photo via AP]
— —
> >Follow Noah Rothman (@NoahCRothman) on Twitter
Have a tip we should know? tips@mediaite.com