Revisit the Case of Christine Chubbuck, the Reporter Who Shot Herself During a Broadcast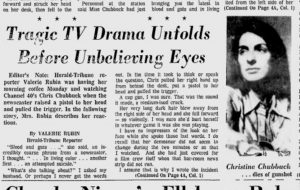 Today is the day that the film Christine is being released in theaters across the country. Starring Rebecca Hall, the film is a look at at the life of Christina Chubbuck, the 29-year-old reporter who shot and killed herself on-air during a broadcast in Florida in 1974.
Rotten Tomatoes, a site that aggregates movie reviews, gives the film a rating of 81/100. Here's Hall talking to CNN's Dylan Byers about the film:
She pointed out that the focus of the film is not just Chubbuck's final act, but rather, all of the things in her life that led up to it. She said that the movie isn't about Chubbuck's death, but rather her struggle to live.
If you can't get to the movies this weekend, we can tell you a little bit about Chubbuck, who left an indelible mark on the broadcast news industry.
Born in Ohio and equipped with a broadcasting degree from Boston University, Chubbuck worked her way up in the news world until she was employed at WXLT-TV. She was the host of the morning talkshow, Suncoast Digest. On the morning of July 15, she shot herself on-air after making the following proclamation:
In keeping with Channel 40's policy of bringing you the latest in 'blood and guts', and in living color, you are going to see another first—attempted suicide.
According to the Independent, she had written an entire predictive script for the segment that included her shooting herself. She even wrote dialogue for whichever of her colleagues picked up the script. The technical director, however, did not keep the image of her body on the screen and no coworker ever got to read that script, which said something like, "TV 40 news personality Christine Chubbuck shot herself in a live broadcast this morning on a Channel 40 talk program. She was rushed to Sarasota Memorial Hospital, where she remains in critical condition."
While writing about the biopic, Rolling Stone called Chubbuck a victim of the "if it bleeds, it leads" mentality in broadcast journalism. It appears that part of what made her so deeply unhappy was her station's gravitation toward sensationalist stories that centered on violence and fear rather than more traditional journalism that would, admittedly, bring less viewers. That explains the "in keeping with Channel 40's policy…" remark.
If Chubbuck was so horrified by the sensationalism of network news in the 1970s, it would be interesting to know how she would have felt about the 24/7 coverage offered by cable news in the 1990s and today.
The video of Chubbuck's death was long thought to have been destroyed or missing, but a copy of it was located this summer and given to a lawyer for "safe keeping."
[image via screengrab]
Have a tip we should know? tips@mediaite.com