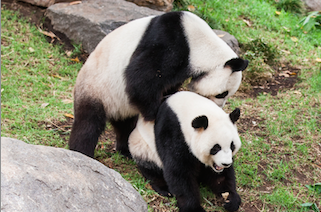 Of the many unusual moments recounted in Douglas Brinkley and Luke A. Nichter's new book The Nixon Tapes: 1971-1972
this one has to be one of the strangest. As the authors explain in a piece for The Washington Post's appropriately-named PostEverything blog, President Richard Nixon was apparently fascinated by the mating habits of panda bears after his famous trip to China.
Shortly after his trip, China decided to gift a male and female panda to the National Zoo. But when Nixon leaked this news to The Washington Star's foreign editor Crosby Noyes, he expressed some concerns about how they would learn to mate without the example of others pandas to observe.
RELATED: Newly Released Nixon White House Tapes: I'm 'Tolerant' of Gays, But…
Below is an excerpt of their conversation, followed by the full audio:
Nixon: Yeah. Oh, yes! Now, as a matter of fact, let me tell you an interesting thing about—that you must know, you can only use on your own if you want, but not on comment. I was just talking to Bob Haldeman who talked to his Chinese hosts, and this question of mating is very interesting. These are—This is a male and a female.

Noyes: Uh-huh.

Nixon: The problem with, uh—The problem, however, with pandas is that they don't know how to mate. The only way they learn how is to watch other pandas mate. You see?

Noyes: [laughs]

Nixon: And, so they're keeping them there a little while—these are younger ones—

Noyes: I see.

Nixon: —to sort of learn, you know, how it's done.

Noyes: Sure, learn the ropes—

Nixon: Now, if they don't learn it they'll get over here and nothing will happen, so I just thought you should just have your best reporter out there to see whether these pandas—

Noyes: Well, we certainly will—

Nixon: —have learned. So, now that I've given you the story of pandas let me let you get back to your more serious questions. [laughter]
Listen to audio below, via The Washington Post:
[Photo via Shutterstock]
— —
>> Follow Matt Wilstein (@TheMattWilstein) on Twitter
Have a tip we should know? tips@mediaite.com