Rick Perry Chides Texas Governor over Jade Helm: OK to Question Gov't, but Not Military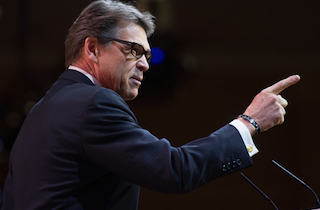 Former Texas governor Rick Perry said Tuesday that his successor screwed the pooch on deploying the Texas state guard to monitor the upcoming U.S. military exercise Jade Helm.
"It's OK to question your government. I do it on a regular basis. But the military is something else," Perry said, per the Dallas Morning News. "Our military is quite trustworthy. The civilian leadership, you can always question that, but not the men and women in uniform." Okey doke.
Jade Helm is a large-scale military training operation set to be conducted across a number of southwestern states this summer. A map declaring certain states, including Texas, "hostile" (for the purposes of the exercise) was seized upon by fringe right-wing websites that have warned the exercise is a prelude to a military takeover and institution of martial law for the purposes of suppressing dissidents.
In response to growing concern over the exercise, which has already led to its cancellation in two Texas counties, Governor Greg Abbott (R) ordered the guard to "monitor" the training. He was quickly joined by the likes of Senator Ted Cruz (R-TX), Representative Louie Gohmert (R-TX), and Chuck Norris.
Both the Pentagon and Wal-Mart (don't ask) have issued statements dismissing the conspiracy theories. Meanwhile, Abbott has already withstood some criticism from his own party.
"I am horrified that I have to choose between the possibility that my Governor actually believes this stuff and the possibility that my Governor doesn't have the backbone to stand up to those who do," said one former Texas lawmaker.
[h/t Dallas Morning News]
[Image via Christopher Halloran / Shutterstock.com]
——
>> Follow Evan McMurry (@evanmcmurry) on Twitter
Have a tip we should know? tips@mediaite.com