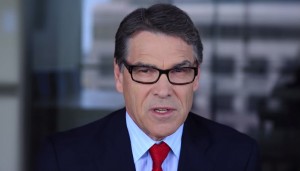 2016 presidential hopeful Rick Perry is no longer able to pay his campaign staffers, who must now work for the former Texas governor on a volunteer basis.
The first hints of the Perry campaign's financial troubles arose Monday afternoon when the National Journal reported that South Carolina staffers weren't being paid for their services. CBS News confirmed later that night that all of Perry's staffers, and not just those in South Carolina, were working without pay.
Last Friday, the day after the first major GOP debate moderated by Fox news, Perry campaign manager Jeff Miller announced the change to staff. He said they were free to look for work elsewhere, but if they remained with the campaign, they'd have to work on a volunteer basis.
In a subsequent statement, Miller explained the campaign's finances were limited as donations have decreased significantly:
"As the campaign moves along, tough decisions have to be made in respect to both monetary and time related resources. Governor Perry remains committed to competing in the early states and will continue to have a strong presence in Iowa, New Hampshire and South Carolina."
According to earlier reports, the Perry campaign raised $1.14 million during the second quarter of 2015. By July 15, the campaign's total cash allowance was down to $883,913. That might not seem like a major change, but when it comes to launching a maintaining a nationwide run at the presidency, seemingly endless bank accounts are key.
Still, Perry still has money at his disposal, albeit indirectly, as all $17 million of it belongs to several Opportunity and Freedom super PACs currently supporting his presidential campaign.
Senior adviser Austin Barbour says the super PACs will "aggressively support the governor in a number of different ways" since they've "got plenty of money" to do so. However, being that such organizations cannot legally converse or coordinate with the political campaigns they support, Perry will have no say it what either super PAC does to help him.
Too bad Perry's not super0-rich like Donald Trump, who doesn't need any measly donations from his supporters. Oh wait, never mind.
[h/t Gawker, the Washington Post]
[Image via screengrab]
— —
>> Follow Andrew Husband (@AndrewHusband) on Twitter
Have a tip we should know? [email protected]