Rick Perry Says Khizr Khan 'Struck the First Blow' in Trump Feud: 'Shame on You'
F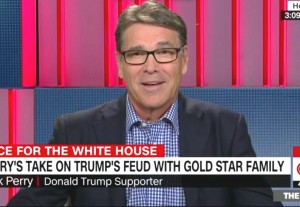 ormer Texas governor and former Republican presidential contender Rick Perry said on CNN Tuesday afternoon that the father of a soldier killed in Iraq "struck the first blow" against Donald Trump.
After Khizr Khan delivered a blistering speech attacking Trump at the DNC, the GOP nominee lashed back at Khan and his wife in a feud that lasted days and drew condemnations from many prominent Republicans and GOP leaders.
"Mr. Khan is the one who went out and struck the first blow," Perry told CNN's Jake Tapper. "In a campaign if you're gonna go out and think that you can take a shot at somebody and not have incoming coming back at you, shame on you."
"I think the Democrats used him in a way that quite frankly I'm not sure that I approve of," he added. "We love our veterans. We love our Gold Star families. But the fact of the matter is Mr. Khan politically used his time on that stage to go after Donald Trump. Why in the world he thought he was gonna get a free ride with that is beyond me."
As Tapper mentioned, when the election cycle kicked off, Perry, Sen. Lindsey Graham, and Jim Webb were the only veterans running for president.
While still in the running last summer, Perry memorably called Trump a "cancer on conservatism" and said that Trump knew nothing of duty, honor, or dignity. He condemned Trump for impugning John McCain and called him "unfit to be Commander-in-Chief of the U.S. Armed Forces." He defined "Trump-ism" as "a toxic mix of demagoguery and nonsense."
Perry was the first Republican to suspend his campaign, dropping out in Sept. 2015 amid reported financial troubles and low poll numbers. He bowed out with a brief concession speech condemning Trump's messaging as "base appeals that divide us based by race, culture, and creed."
He announced his support for Trump in May.
—
Sam Reisman (@thericeman) is a staff editor at Mediaite.
Have a tip we should know? tips@mediaite.com