Rick Perry Thought He Would be a 'Global Ambassador' For American Oil as Energy Secretary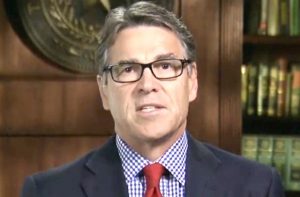 According to a report by the New York Times, President-elect Donald Trump's choice for Secretary of Energy didn't know what the department he's supposed to lead actually does when first offered the position.
Former Texas Governor Rick Perry, who famously wanted to get rid of the Department of Energy during his 2012 presidential campaign (but forgot its name), apparently thought he was "taking on a role as a global ambassador for the American oil and gas industry that he had long championed in his home state."
Since discovering that the agency is more focused on caring for America's huge nuclear arsenal, the two-time presidential candidate has reportedly been boning up on his studies.
"If you asked him on that first day he said yes, he would have said, 'I want to be an advocate for energy,'" said Michael McKenna, a Republican energy lobbyist who advised Mr. Perry's 2016 presidential campaign and worked on the Trump transition's Energy Department team in its early days. "If you asked him now, he'd say, 'I'm serious about the challenges facing the nuclear complex.' It's been a learning curve."
According to the NYT piece, a day ahead of his confirmation hearing, Perry's supporters concede that he is inexperienced in dealing with nuclear policy, they point to some dealings he had as governor with handling issues revolving around nuclear waste and stewarding the country's second largest economy as pluses.
Perry, if confirmed, will take over for Ernst Moniz, a nuclear physicist who helped negotiate the Iran nuclear deal. Moniz's predecessor was Steven Chu, a Nobel Prize winner.
UPDATE 10:30 AM ET 1/19/2017: The on-the-record source for the New York Times story told The Daily Caller that he was taken out of context for the story.
[image via screengrab]
–
Follow Justin Baragona on Twitter: @justinbaragona
Have a tip we should know? tips@mediaite.com