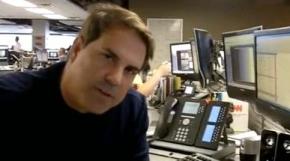 CNN's Rick Sanchez hosts Rick's List from 3-5pmET weekdays on CNN and now is hosting an 8pmET prime time version of the program.
But is that really enough Rick Sanchez? For those who say 'no', Sanchez also puts out a couple minutes of TwitVid's nearly every day as well.
Sanchez has a big presence on Twitter, with more than 135,000 followers that he engages with regularly (and includes their tweets during the show). But he also includes TwitVid's, short clips showing behind-the-scenes meetings and interviews with the host.
Last week, Sanchez reflected on the difference between him and others on cable news. "I was thinking about it this weekend watching one of our competitors," he said. "I was thinking how incredibly different I am from most of the people who work there. Because as I watch them on TV I feel like they all are like…" and then he holds his nose up in the air.
"I get along better usually with the people on my staff, the guards, the cleaning guys, than I do with the suits," he said.
A man of the people – who has one of the most transparent cable news shows on TV. The viewers for the prime time program aren't there yet, but he is able to connect through Twitter with a different audience, not seen in Nielsen numbers, on a regular basis.
Here was last week's TwitVid about the competition, and below, yesterday's:


Here's Sanchez talking to his staff yesterday:


—–
» Follow Steve Krakauer on Twitter
Have a tip we should know? tips@mediaite.com