Rick Santorum Calls Mitt Romney A 'Socialist' Because That's Just A Word We Use Now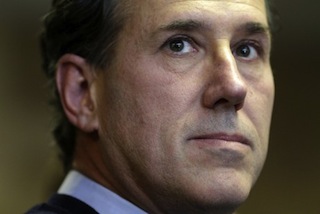 There are few things more fascinating than etymology and learning about the history of words. It's amazing how, over years, a simple combination of letters or sounds can change so much, representing vastly different human feelings and experiences. Take, for example, the word "socialist." At one point, being a "socialist" meant that you were a believer in Socialism, itself a title that represented a wide spectrum of philosophical and political beliefs albeit ones that are all held together under the umbrella of social ownership. In 2012 America though, the word "socialist" now just means "a guy I don't like." Yesterday, Rick Santorum used the current usage in referring to his GOP rival Mitt Romney.
Yesterday, Romney talked to Fox News' Neil Cavuto and said he wouldn't choose Santorum as a running mate because he isn't conservative enough, thus signaling that he would like to change the definition of conservative from meaning a bunch of stuff that Santorum clearly is, to meaning "super awesome dude." These comments clearly made Santorum mad. So mad that Romney was no longer a guy he liked and, thus, a socialist.
He explained as much when calling into Mark Levin's radio show:
"When Mitt Romney's solution to a healthcare problem is to take over one-sixth of the economy, you can't call yourself a 'conservative.' You can call yourself a 'socialist,' but you can't call yourself a 'conservative.'"
Those are tough words. Tough, tough, easily redefined words.
Now, I may love studying etymology, but I should point something out. While it's only natural for words to change meanings over time, I hate it when people try to force new definitions for their own selfish gain. People who do that are jerks and I hate them.
So, basically, those people are socialists.
Listen to the clip from Levin's show below:
(h/t HuffPo)
Have a tip we should know? tips@mediaite.com