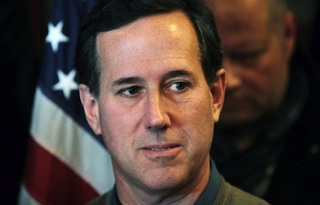 Now this is just sad. The other day, we brought you the news that John Garver, the 19-year-old nephew of Rick Santorum, bravely came out as a Ron Paul supporter. At the time, we hoped that Santorum, long criticized for his derogatory comments about Paul and his supporters, would finally change his tune after seeing that there was a Paul fan within his very family. But, no. No, the man is too stuck in his ways, too incapable to realize times have changed. And so, when asked for his response, cruel Uncle Rick responded that Garver's feelings were just "a phase."
RELATED: Ouch: Rick Santorum's Nephew Endorses Ron Paul
Come on, Santorum! Every single stitch of science proves that Ron Paul fans are born that way! How bigoted can you be?
From The Washington Post:
"[Santorum] responded to comments from his 19-year-old nephew, who recently said that a vote for Santorum was a vote for the status quo. With humor, Santorum said he loved the young man — one of his 35 nieces and nephews. But the youth is a supporter of Rep. Ron Paul.

'God bless him, it's a phase,' Santorum said. 'We all have one of those.'"
That's just disgusting.
What's next, Rick Santorum? Will you be comparing Ron Paul's supporters to people who vote for dogs?! Will you be disowning your nephew? Forcing him to go to one of Marcus Bachmann's "Call for Paul's Fall" clinics? For shame.
I think we need to send a message to Mr. Santorum. For now on, I propose that we start using the word "Rick" to describe the grease you get on your fingers when you vote for Ron Paul in a dirty polling booth. If enough of us start doing it, we can show this bigot we won't stand for his hate.
(h/t I'm With Kanye)
Have a tip we should know? tips@mediaite.com