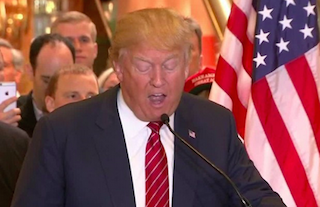 On Monday, Donald Trump unveiled his big tax reform plan, complete with a new IRS form for lower-income citizens that would literally read "I Win" across the top of the page. But now, a review by the conservative-leaning Tax Foundation has found that, contrary to the GOP frontrunner's promises, Trump's plan would cause the deficit to balloon and cost the country an estimated $12 trillion over 10 years.
At the same time, the Tax Foundation found that by lowering income taxes on many Americans, Trump's plan would add incentives to work that would increase the GDP by 11.5% and could result in an increase of 5.3 million full-time jobs. But that would come at the expense of tax revenue from individuals to the federal government, which would decrease by $10.14 trillion over the next decade.
An additional loss of $1.54 trillion would come from Trump's changes to the corporate tax code and $238 billion from his elimination of the estate tax. And while incomes for all Americans would rise under this scenario, there is an disproportionate benefit for the top 1%, of which Trump is a proud member.
While the top 1% of earners would see their incomes increase by 21.6%, wages for the bottom 10% would only increase by 1.4%.
The $12 trillion deficit increase caused by Trump's plan dwarfs the estimates put out by the Tax Foundation following the release of other GOP candidates' proposals. Similar plans from Jeb Bush, Marco Rubio and Rand Paul would each cost in the $3-4 trillion range.
Even so, Bush accused Trump of borrowing his ideas on Twitter Tuesday morning:
Finally saw Donald's 'tax plan.' Looks familiar! I'm flattered. But he should've stuck with growth & fiscal responsibility.

— Jeb Bush (@JebBush) September 29, 2015
[Photo via screengrab]
— —
>> Follow Matt Wilstein (@TheMattWilstein) on Twitter
Have a tip we should know? tips@mediaite.com