RNC Releases 'Autopsy' Report Aiming To Repair Image As 'Scary,' 'Out Of Touch' Party Of 'Stuffy Old Men'
RNC Releases 'Autopsy' Report Aiming To Repair Image As 'Scary,' 'Out Of Touch'...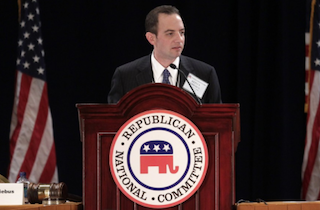 Following the 2012 loss, Republican National Committee chair Reince Priebus said there'd be an autopsy report, detailing what went wrong and how to fix it. That report was released today, and its criticism echoes what many have been saying: Voters see the GOP as "out of touch" and the party of "stuffy old men." And that's the image they're striving to replace with a more "inclusive" one.
The wide-ranging Growth & Opportunity Project tackles the issues of reaching out to minorities, comprehensive immigration reform, digital strategy, and a better primary process (fewer debates and earlier convention).
The GOP "should be a more welcoming conservatism," the report says, instead of "driving around on circles in an ideological cul-de-sac." It encourages connecting with voters and championing the middle class and upward mobility.
In terms of minority outreach, it states, "If Hispanics think that we do not want them here, they will close their ears to our policies." In "essence, Hispanic voters tell us our Party's position on immigration has become a litmus test, measuring whether we are meeting them with a welcome mat or a closed door."
"Asked to describe Republicans, they said that the Party is 'scary,' 'narrow minded,' and 'out of touch' and that we were a Party of 'stuffy old men,'" the report adds. And that's the image they're seeking to repair.
The recommendations also address the gap between young voters and the GOP, touching upon the issue of gay rights, but avoiding the issue of marriage. "Already, there is a generational difference within the conservative movement about issues involving the treatment and the rights of gays, it states, "and for many younger voters, these issues are a gateway into whether the Party is a place they want to be."
The party should not be seen as "intolerant of alternate points of view" is a message repeated throughout the report (which includes a long list of advice, though it may not be very specific), the theme of which appears to be: America is changing and we'll have to adapt.
Read it in full below:

Have a tip we should know? tips@mediaite.com