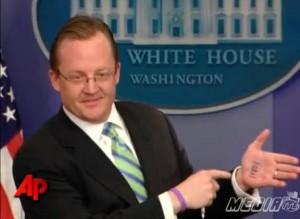 At today's White House briefing, the subject of Senator Jim Bunning's obstruction of an extension of unemployment and COBRA benefits came up several times. Bunning held up the bill despite the fact that his own leadership doesn't support his objection, and when a Democratic Senator implored him to drop it, replied "Tough shit." Hey, it fits on a bumper sticker!
Bunning also complained when his own tactic caused him to miss a basketball game. While Gibbs responded to questions about the objection, and the basketball game, I followed up by asking about Bunning's new slogan.
Here's a transcript of Gibbs' remarks about Bunning:
Q Actually I want to follow up on that point. In the middle of the debate last night Senator Bunning complained that because it was running late he was missing the Kentucky/South Carolina game.
MR. GIBBS: Kentucky won and we should now get about to ensuring that 500,000 people, because one senator wants to see a game in which his team thankfully won, I'm sure —
David, Senator Bunning objected to voting on his own proposal. I don't — it's hard for me to understand why if somebody went to you, including your own — a senator from your own state and said if you object to the way this is happening, why don't we have a vote on your proposal — and you object to that.
These are the type of games that the American people fail to understand. These are the type of instances where for some reason one person can throw out all measure of common sense and hurt hundreds of thousands of Americans that have unfortunately lost their jobs as a result of this economic downturn.
A few minutes later, I asked Gibbs if he'd heard Bunning's kiss-off, and if he had a reaction:
Transcript:
Q Yes, Bunning. He's also reported to have said in response to the criticism of his objection — he used the words "tough crap," only he didn't say "crap," he said "tough S" — the S-word. I wanted to know if you had any reaction to that or if the President had reaction to that?

MR. GIBBS: I think that — look, we've talked about — we've talked about comments that people have made before. We've talked about the tone of our politics. I hope that one senator does not stand in the way of and tell hundreds of thousands of people that could lose their health insurance and their unemployment benefits — I hope he has more encouraging words than that for them. The Senate should act on ensuring that nobody loses these benefits as a result of one person standing in the way.
Have a tip we should know? tips@mediaite.com