Roger Stone Wants Trump's Delegates to Sign a Pledge, 'Violence Would Be Counterproductive'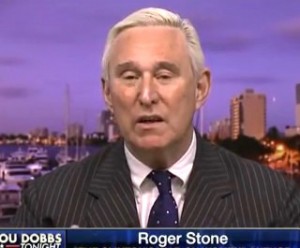 Roger Stone penned an editorial for Breitbart published Tuesday, clarifying that his proposal to secure Donald Trump's nomination in the event of a contested convention does not call for violence, merely for the candidate's delegates to sign a loyalty pledge.
"Violence would be counterproductive to Trump's general election drive," Stone wrote.
Stone came under fire for remarks made in an interview in which he vowed to release the hotel locations and room numbers of the "culprits" who might throw their votes to a non-Trump candidate, while also enjoining Trump supporters to come to the RNC convention in Cleveland in force. "The big steal is on," he said, referring to party efforts to swipe the nomination away from Trump.
"March on Cleveland. Join us in the Forest City. We're going to have protests, demonstrations. We will disclose the hotels and the room numbers of those delegates who are directly involved in the steal. If you're from Pennsylvania, we'll tell you who the culprits are. We urge you to visit their hotel and find them," Stone had said.
In his recent Breitbart op-ed, Stone said that if the media had played his complete interview, "they would know I specifically renounced violence while urging an intense 'dialog' to press those delegates — who were elected as Trump delegates but were inserted as quislings by the party bosses — not to betray Trump on a second ballot."
He writes:
We at Stop the Steal, the grassroots uprising, and March on Cleveland will ask every Trump delegate to the Republican convention to sign a pledge that "they will remain committed to vote for the winner of the primary or caucus as chosen by the voters (Donald J. Trump )" through the entire balloting process. In other words, respect the will of the voters. [emphasis in the original]

This will be a voluntary pledge. The voters will know whom they can trust — and who will play along with the insiders' attempt to steal the nomination from Donald Trump. The media will know too. Then these "Trojan Horses" can explain why our votes don't matter.
Stone was formerly working for Trump's campaign as an adviser before either being fired or quitting in August. He has since filled a role as an "ally," whose incendiary remarks have gotten him banned from both CNN and MSNBC. He has tried to smear Ohio Gov. John Kasich as a former pot dealer, and Ted Cruz linked him to the story about the senator's alleged sexual affair that appeared in the National Enquirer.
Following the alleged assault of one of its reporters by Trump's campaign manager, several Breitbart staffers quit the outlet, calling it mouthpiece for "party-line Trump propaganda."
Have a tip we should know? [email protected]ite.com