CBS This Morning's Chris Licht Named as the New Executive Producer for The Late Show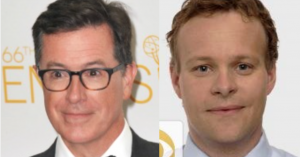 In a move from the morning news to the late night, Chris Licht has been declared the new Executive Producer and Showrunner for The Late Show with Stephen Colbert.
While the new Late Show has provided laughs, high-profile interviews and its own unique elements of night-time comedy, the show has seen a decline in ratings among viewers recently. Licht has been serving as programming VP for CBS News and EP of CBS This Morning, and his move might be an effort by the network to reinforce the show.
"I'm thrilled Chris is joining us at The Late Show. I am so impressed by what he has done at CBS This Morning," said Colbert. "And I trust someone has told him he doesn't have to get up at 4 A.M. anymore."
Ryan Kadro will succeed Licht on Monday as the new EP of CBS This Morning. CBS Entertainment president Glenn Geller applauds the move, having said that Colbert has created an "exciting new franchise" for the network, and that Licht's move to the show will be the next step in the foundation's growth.
Licht also gave a statement of his own regarding the move:
"You can't work in this business without being in awe of Stephen Colbert and his talents. The chance to work with Stephen and help build a valuable late night franchise, while continuing to grow at CBS, is truly an honor. I can't wait to get started.

At the same time, it's a bittersweet moment. Our CBS News team has built something very unique in the morning that continues to grow in stature and ratings. I will miss working with them all, but I leave with incredible pride for what we accomplished together, and I can't wait to see where Ryan takes the show as it moves onward and upward to the next level of success."
[h/t TVNewser]
[Images via Twitter / screengrab]
— —
>> Follow Ken Meyer (@KenMeyer91) on Twitter
Have a tip we should know? tips@mediaite.com