Romney Campaign Says No Ceasefire On Obamacare, Remains A 'Central Issue In The Campaign'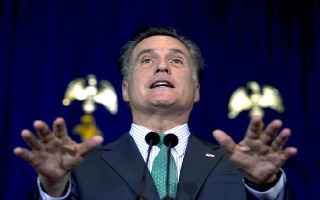 The Romney campaign's response to the Supreme Court's decision on health care reform has been decidedly muddled, leading to some experts to suggest that the campaign was entertaining a plan to move past the health care issue. But on Tuesday, Washington Examiner columnist Byron York published a series of quotes from Mitt Romney campaign spokesperson Ryan Williams who said that the campaign has no intention of entertaining a ceasefire on the full repeal of health care reform.

RELATED: Eric Bolling Calls Out Romney Campaign's Eric Fehrnstrom: 'Take A Vacation, Come Back November 7′
The Romney campaign's response to the Supreme Court's ruling on President Barack Obama's health care reform law did not inspire confidence among his conservative supporters for whom repealing the law is a priority.
Furthermore, columnists have written that American voters have begun to warm to the law.
The Hill columnist Juan Williams, writing for Fox News, notes how the Affordable Care Act is gaining in popularity land is likely to continue in that direction:
On Sunday Reuters released a poll showing 48 percent of registered voters now back the bill. That is up five percent since the ruling. That includes a bump in support among independent voters from 27 percent to 38 percent. And even opposition among Republicans, who overwhelmingly hate it, went down five percentage points from 86 percent to 81 percent.
The National Journal's Josh Kraushaar wrote Tuesday that the Romney campaign was signaling its intention to declare a ceasefire after senior campaign advisor Eric Fehrnstrom appeared on MSNBC and said that the Romney team agrees with the President that he individual mandate in the Affordable Care Act is a penalty and not tax.
"It's becoming clear that Romney has decided to focus on the economy at the expense of everything else, even issues that could play to his political benefit," Kraushaar wrote.
Conservatives were vexed – how can a Republican presidential candidate be unable to position his campaign against a tax hike? That is the party's rhetorical wheelhouse, their bread and butter?
Conservative radio host Laura Ingraham and Fox News personality Eric Bolling were vocal in their aggravation with the Romney campaign.
The backlash was significant enough to prompt a Romney campaign spokesperson to reach out to conservative columnist Byron York to dispel rumors that the Romney team was abandoning the fight over health care reform.
"From our perspective, Obamacare has been and will continue to be a central issue in the campaign," Williams told York. "It presents voters with a bright line that divides the two candidates. Gov. Romney is going to repeal Obamacare and President Obama is going to keep it. There is a clear choice in November."
"It is something that [Romney] has been discussing on the campaign trail for the past year and that he will continue to discuss," Williams adds. "It is bad law, it is bad policy, and it's something that Gov. Romney is going to address on his first day in office. His commitment to repealing Obamacare is as strong as it was on the day Congress jammed it down the throat of the American public."
> >Follow Noah Rothman (@Noah_C_Rothman) on Twitter
Have a tip we should know? tips@mediaite.com