Roommate of Victim in Rolling Stone Campus Rape Article: 'This Story Is Not a Hoax'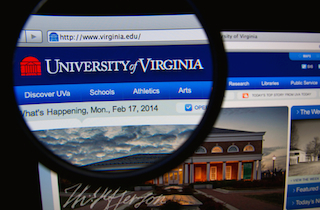 As the story of "Jackie," the victim at the center of Rolling Stone's recent bombshell report on campus rape, has unraveled, multiple players in the article have come forward to cast doubt on Jackie's version of events (and reveal that RS never contacted them).
On Monday, however, Jackie's freshman roommate wrote that she believes Jackie.
"While I cannot say what happened that night, and I cannot prove the validity of every tiny aspect of her story to you, I can tell you that this story is not a hoax, a lie or a scheme," Emily Clark wrote in the Cavalier Daily. "Something terrible happened to Jackie at the hands of several men who have yet to receive any repercussions."
RELATED: Naomi Wolf: Sexual Assault Victims Should Be Going Public, Naming Attackers
Clark recounted Jackie's change from a bubbly, outgoing freshman into withdrawn and morose student after an incident at the end of the first semester.
"Sometime that year I remember her letting it slip to me that she had had a terrible experience at a party," Clark wrote. "I remember her telling me that multiple men had assaulted her at this party. She didn't say anything more. It seemed that was all she'd allow herself to say. I wish I had done something sooner. I wish I had known how to help."
Details of the story related in Rolling Stone have come under question after re-reporting by the Washington Post, including whether the fraternity where Jackie said she was gang-raped had a social event on the night in question. Trauma victims often have difficulty recalling the specifics of experiences, and it's still unclear how much of Jackie's story is true and/or how much is the result of Rolling Stone's lapses in verification.
Clark said the campus needed to confront sexual assault no matter what. "Sexual assault is not just a UVA issue, but UVA is where this issue has come to the forefront," she concluded. "Let us stand with survivors.
[h/t Cavalier Daily]
[Image via Shutterstock]
——
>> Follow Evan McMurry (@evanmcmurry) on Twitter
Have a tip we should know? [email protected]