Rubio Advocated to Take Money From Sex Workers and Give it to Whomever Ratted Them Out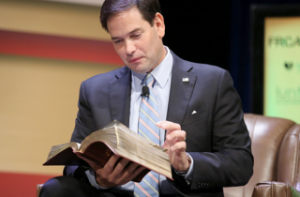 Marco Rubio is the Robin Hood of Snitches. In 2006, he put out a book that contained a list of "100 Innovative Ideas for Florida's Future," and featured on that list was a plan to incentivize turning in anyone presumed to be engaging in sex work.
According to The Daily Beast, Rubio thought it would be smart to take cash from suspected sex workers to pay anyone who tipped off the police. The plan wasn't really that smart, though, because it would have undoubtedly increased the amount of false accusations hurled at innocent people.
"Whistleblower status should be afforded to everyone who reports these crimes, even if they are involved in the act. As an incentive for reporting the illegal activities, whistleblowers should also receive half the proceeds from any forfeiture actions brought in the case," he asserted.
He went on to say that a registry should be created that would compile the names of anyone who used a website to find sexual service while a large-scale ad campaign would handle shaming the sex workers themselves. By that logic, if there were even any sex workers left after the public shaming campaign, no one would seek them out for fear of being added to a public database.
Sex workers' rights advocates balked at Rubio's suggestions from a decade ago while his campaign refused to respond when asked if he still stood by his plan, which never went into effect.
Activist Maggie McNeil said, "It would incentivize false claims," while author Alison Bass called it "counterproductive."
Still, there is a silver lining in Rubio's plan: The immunity for those who would go to the police would have extended to anyone, including clients, pimps, and even sex workers. This means that any person being trafficked against their will could go to the police without fear of being jailed for prostitution.
[image via screengrab]
For more from Lindsey, follow her on Twitter.
Have a tip we should know? tips@mediaite.com