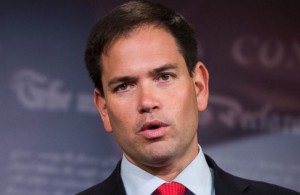 Sen. Marco Rubio had an uncomfortable moment while campaigning in New Hampshire Monday night, when a gay Granite Stater demanded to know why the Florida senator wanted to push him back into the closet.
"I don't," Rubio responded. "You can live any way you want. I just believe marriage is between one man and one woman."
From The Washington Post:
The man, Timothy Kierstead, a New Hampshire resident, shot back: "By God," adding, "You separate church and state."

Kierstead said he has been married for a "long time," and he added  to Rubio: "You want to say we don't matter."

"No, I just believe marriage is between one man and one woman," said Rubio (R-Fla.).

"But that's your belief," Kierstead shot back.

"I think that's what the law should be. And if you disagree you should have the law changed by a legislature," Rubio said. The man reminded Rubio that gay marriage is legal.
In fact, same-sex marriage had been made legal in New Hampshire in 2010, thanks to legislation written by state lawmakers, exactly as Rubio specified.
Rubio reportedly walked away, patting Kierstead on the shoulder, saying, "I respect your view."
"Typical politician," Kierstead replied. "Walk away."
Rubio has said that he disagrees with the Supreme Court Obergefell decision that effectively legalized same-sex marriage nationwide, telling Chuck Todd in December, "If you want to change the definition of marriage, then you need to go to state legislatures and get them to change it."
Rubio has repeatedly stressed his belief that there is no constitutional right that allows same-sex couples to marry, and has said that as president he would appoint Supreme Court Justices who would overturn Obergefell.
This is not unlike an incident that occurred on the campaign trail in 2011, when Republican presidential contender Mitt Romney told a New Hampshire vet that he wanted to see the Granite State's same-sex marriage legislation repealed — only to realize the vet was married to his husband.
Have a tip we should know? tips@mediaite.com