Rudy Giuliani Blasts President Obama As Stutterer In New Hampshire Speech Therapy Session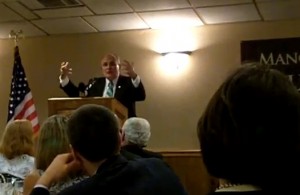 In a non-campaign stop for the 2012 presidential race, former NY Mayor Rudy Giuliani (R-9/11) lashed out at President Obama for "dithering" (or engineering a UN-led no-fly zone over Libya, instead of overcommitting the US military to another Middle East quagmire. Tomato, tomahto.), and mocked the President's manner of speech with a stuttering impression.

From The Associated Press:
Speaking at a Manchester Republican Committee fundraiser, Giuliani said he hasn't decided yet whether he will again seek the GOP nomination. But he sounded a lot like a candidate, calling Obama's handling of the uprising in Libya in the last week the worst foreign policy-decision making – or lack thereof – he's ever seen.

When France proposed instituting a no-fly zone, "Our president, the leader of the free world, said, 'A what? That's hard! A no fly zone is r-r-r-really hard!' " Giuliani said to laughter.
He made the remarks at a fundraising event before a throng of tens of New Hampshire Republicans, each of whom received a "Never Forget" pin as a door prize, and perhaps as a mnemonic aid for Hizzoner.
The crisis in Libya is, of course, a subject of legitimate debate, with Republicans like Giuliani and Newt Gingrich (R- GA) favoring unilateral action by the US, while their GOP colleague Dick Lugar (R-IN) favors more "dithering" (he calls it "congressional debate"), and Defense Secretary Robert Gates (a Bush administration holdover) expressing strong reservations about US intervention. On the Democratic side, Sen. John Kerry (R-MA) has pushed hard for a no-fly zone, while many congressional Democrats agree with Lugar that Congress needs to authorize US military action in Libya.
So far, though, Giuliani is the only one to raise the all-important issue of alleged speech tics, perhaps as an homage to Best Picture Oscar winner The King's Speech. Giuliani's shot at the President drew fire from liberal television exile (for the moment) Keith Olbermann, who expressed his outrage in the most logical fashion imaginable:
I'd like to thank the Mayor for thus giving me implicit permission to resume doing my impression of how he stammers and spits and shlobbers whenever he talks, when I return to television in late spring.

Idiot.
That's right, folks, the best way to highlight the pettiness and immaturity of Giuliani's Obama impression is with a petty, immature impression of Rudy Giuliani. Fortunately, you don't have to wait until Keith's Current TV debut to see it: (From Aug. 7, 2008 edition of Countdown)
Olbermann goes on to recount his first-ever encounter with Giuliani, in which then-Mayor Giuliani was supposed to introduce then-Sportscenter co-host Keith Olbermann at an event at City Hall. I don't want to ruin the story, but it ends with an unfavorable comparison of Giuliani with former Gov. Sarah Palin.
The Libya portion of Rudy Giuliani's speech isn't available just yet, but here's a clip of the last five minutes or so, in which he praised the Tea Party, tried to mend some fences with rising GOP star Chris Christie (R-NJ), whom Giuliani criticized for his absence during a blizzard in January, and "confessed" to some faint praise of fellow 2008 also-ran Hillary Clinton. He also expressed regret that he didn't spend more time in New Hampshire in 2008, which some may view as pandering, but is actually a sincere wish to be close to his beloved Red Sox:
Have a tip we should know? tips@mediaite.com