Rush Limbaugh Slams Holder And Napolitano: "This Is The Language Of Dictators"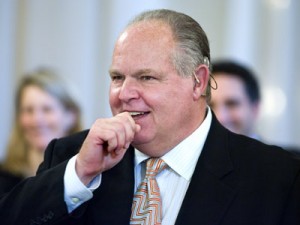 It would seem that Rush Limbaugh's been watching a lot of ABC recently and hasn't liked what he's been seeing. No, it's not that he's felt the second season of Modern Family's been subpar. Rather he caught two interviews the ABC News team did with members of the Obama Administration and didn't like what either had to say. After the jump, some of Limbaugh's harsh words for Eric Holder and Janet Napolitano.
First up was Holder. The Attorney General appeared on Good Morning America today where he had some dire predictions about our safety. Limbaugh was much more incensed, however, by Holder's claims that he was most worried about home-grown terrorism. "This is the language of authoritative statists," Limbaugh claimed, while comparing Holder's fears of radical websites creating American-based terrorists to Hugo Chavez. "This is the language of dictators." In fact, Limbaugh wondered when was the last time a website run by Americans has ever led to terrorists. He failed to mention that Holder was speaking about Anwar Al Awlaki, who was born in America, ran a popular blog, made popular YouTube videos, and preached to not one but three of the 9/11 hijackers. He'd be a good example. Either that or Eric Holder just hates Americans.
Limbaugh had a better time attacking Napolitano's World News appearance because, really, most people should know how many days there are in a year. Like most, he was curious as to which day was the 365th that Homeland Security wouldn't be spending protecting us. Of course, Limbaugh got his special personal twist by noting that it couldn't be Ramadan because that's "like a month." Nice.
Check out the clip from The Rush Limbaugh Show below:
(h/t)
Have a tip we should know? tips@mediaite.com