Russia Blocks Access to PornHub and Tells Its People to 'Meet Someone in Real Life.' Thanks, Putin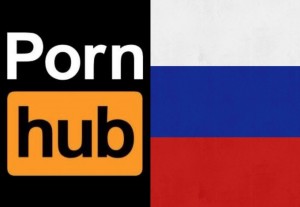 Yakov Smirnoff could certainly have some fun with this one.
Russia's primary media regulator has stepped in to block all access to popular porn websites, including global favorites PornHub and YouPorn, at least until they can figure out what the hell is going on. And as if the state-run action to block citizens who are russian' to get off isn't bad enough, it has resorted to even openly mocking its people in the process.
The ban on porn sites began on Tuesday of this week; users who attempted to visit the sites were quite literally cock-blocked by a message that told them that the content has been stopped, "by decision of public authorities." The move is regulated by a program known as Roskomnadzor, which ArsTechnica says in English is known as Federal Service for Supervision of Communications, Information Technology and Mass Media.
Material that is deemed sexually explicit in nature is not banned per se in Russia, though a law prohibits, "the illegal production, dissemination, and advertisement of pornographic materials and objects."
Roskomnadzor gave users last year a sarcastic message when a similar ban went into effect: "[A]s an alternative you could try and meet someone in real life."
As of this week, the media regulator simply referred to its 2015 stance on the issue, noting, "Dear lovers of the Internet, this piece of advice still stands."
Undeterred, PornHub fired off the best possible reply:
.@roscomnadzor if we give you guys a Pornhub Premium account, will you un ban Pornhub in Russia?

— Pornhub ARIA (@Pornhub) September 14, 2016
—
[h/t ArsTechnica]
Have a tip we should know? tips@mediaite.com