Russian Media Coverage of Debate Makes It Clear Which Candidate the Kremlin Supports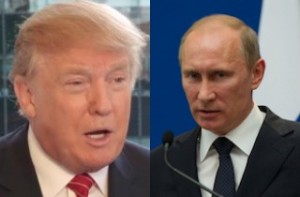 Shortly after the first presidential debate Monday night, Trump touted his triumph by citing an array of unscientific online polls.
To the chorus of dubious enthusiasm, he might have added the coverage of state-sponsored and nationalistic Russian media, whose live-tweeting during and following the debate makes it pretty clear whom the Kremlin supports.
Julia Ioffe, writing in Foreign Policy, reports that the response of Kremlin-controlled media "shows exactly how smoothly Donald Trump's policy positions dovetail with Moscow's."
For instance, Russian media seems charmed by Trump announcing that the U.S. would no longer be the "world's policeman" — echoing remarks he made earlier in the campaign that he would consider reneging on NATO treaties.
They also seem flattered by comments Trump made praising their nuclear arsenal while disparaging America's.
Trump (correctly) touted Russia's recent modernization of its nuclear arsenal (though he didn't mention that this was, in part, due to Putin's burial of any new arms control deals with the United States). It's not immediately obvious (to me) that the second part of his assertion — that America's nuclear arsenal is a shambles — is true, but the Russians took it and ran with it.
The praise for Trump from Kremlin-sponsored media is not insignificant. Authorities believe that the Russian hackers are responsible for recent breach of the DNC emails. Trump has repeatedly expressed his admiration for Russian President Vladimir Putin, and he has encouraged Russia to commit espionage in order to tip the election in his favor.
You can read the complete report at FP. 
Have a tip we should know? tips@mediaite.com