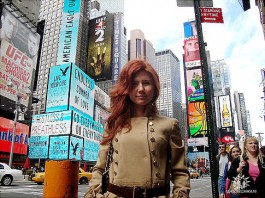 Alas, it looks like the Russian Spy story is drawing to a close. Earlier today in lower Manhattan the 10 Russians (the 11th skipped bail in Cyprus last month) accused of "operating under deep cover in the U.S. for Russian intelligence" pleaded guilty to the sole charge of "acting as an unregistered foreign agent."
Despite the fact they have been pegged spies by the press none of the suspects were actually charged with espionage "because, it appears, after more than a decade (and in some cases two decades) of living in the U.S., they never managed to discover anything secret to pass on to Moscow." Except, perhaps, tips on how to grow nice hydrangeas.
It is assumed all ten copped so quickly to the charges because a swap is in the works with Russia. From NPR:
Prosecutors and defense attorneys recommended the accused be sentenced to time served and U.S. District Judge Kimba Wood immediately ordered them to be deported. They are expected to be sent back to Russia right away, perhaps as early as Thursday evening.

Two officials familiar with the case told NPR the spy swap actually started early this morning. That's when a Russian scientist and arms control researcher named Igor Sutyagin was moved out of Lefortovo prison in Moscow and put on a plane to Vienna, Austria. Sutyagin had been sentenced to 15 years for spying for the United States. He has consistently denied doing so, but apparently, to win his freedom, he signed a document admitting guilt before he left Russia, the officials said.
So there you have it. Bye, bye, sexy Russian spies. Watch CNN's report below.
Have a tip we should know? tips@mediaite.com