Ryan Lochte Incident a Fitting Symbol of an Olympics That Never Quite Caught On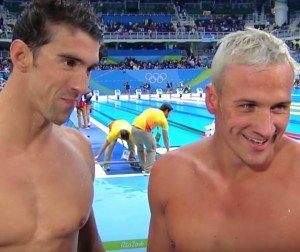 Friday morning on the Today show, Matt Lauer asked Bob Costas if he thinks the Ryan Lochte fiasco will be seen in the history books as more than a footnote to the 2016 Summer Olympics.
"It's not gonna be a dominant story," the venerable sportscaster said. "So many historic things sports-wise happened here…by and large, none of the things we feared about an Olympics in Rio have come to pass…and we come away with dozens and dozens of indelible memories of great sports events."
No doubt, there certainly have been some remarkable performances by some remarkable athletes. Simone Biles was nearly perfect in gymnastics, winning four Gold medals in five events. Swimmer Katie Ledecky smashed the competition in the 800m Freestyle, one of her four Golds. Michael Phelps added five Gold medals to his all-time best total of 23. Usain Bolt barely looked like he broke a sweat in his dominating 100 and 200m dash victories.
But in the end, Ryan Lochte's night out with three US swim teammates, and the crazy worldwide scandal that followed, will forever serve as a symbol of the 2016 Olympics. And it will be an appropriate symbol at that. Because in the Lochte scandal, as in the 2016 Games, something always seemed to be missing.
Think of how the Lochte story unfolded. First, Lochte denied that he was robbed, then he said he was. Then Rio police began to doubt the story, and from there, it seemed like information was constantly being added or changed every few hours. From the beginning and all throughout, things never really added up.
So it was with the Olympics as a whole. Yes, there were these outstanding — in many cases, historic — performances. But judging by the television ratings, these Olympics have failed to catch on with much of American audience. Bloomberg reports that ratings have fallen 17 percent overall from the 2012 Games in London, and 25 percent in the advertiser-coveted 18-49 demographic. The Olympics have the unique ability to capture the public's imagination. These Games never did.
Why? Several theories.
First, there haven't been many deviations from the script. Simone Biles was expected to dominate. She did. Katie Ledecky was expected to dominate. She did. Phelps and Bolt? They're incredible. But we've seen 'em before. Even historic dominance can get old.
The best Olympic moments are organic. Greg Louganis's incredible dive after hitting his head in 1988. Kerri Strug's miraculous vault landing in 1996. Rulon Gardener upsetting the unbeatable Alexander Karenin in 2000.
The 2016 Olympics have had few surprises. From the beginning, they felt pre-packaged. They've often felt sterile.
Perhaps the one memorable, truly organic moment of the 2016 Summer Olympics was swimmer Lilly King's finger-wag at rival Yulia Efimova, who was allowed to compete in Rio despite having previously been suspended for doping. Which brings us to another possible reason the Games have lacked sizzle — the dark cloud of performance enhancing drugs that continues to linger above the sports world.
We've been watching so many unprecedented things in these Olympics that deep down we can't help but question them just a little bit. Unprecedented things like when Mark McGwire and Sammy Sosa bashed 136 home runs between them in 1996. Unprecedented things like when Lance Armstrong won his seventh straight Tour de France. Unprecedented things like when Marion Jones won five medals at the 2000 Olympics in Sydney.
All these world records…all these historic medal hauls…all these events in which the first place finisher is wholly unthreatened by the second place finisher…are we totally certain that they're all on the level?
In our hearts, will we ever again fully believe that a human being is capable of performing at a dramatically higher level than everyone else in the world without the help of banned substances? Have we, as fans, lost our innocence forever?
Such thoughts are horribly unfair to the clean performers of the 2016 Olympics. These are not their crimes, but they are being punished just the same.
Overall, as Bob Costas noted, Rio has so far avoided the disaster that seemed eminently possible before the start of the Olympics. And with Friday's announcement that Jimmy Feigen is being allowed to go home after donating $11,000 to charity, that episode, too, appears to have ended with little collateral damage.
What remains from both the Lochte incident and the 2016 Summer Olympics is an unsettling but unmistakable feeling — however right or wrong — that somebody's getting away with something.
[image via screengrab]
–
Joe DePaolo is the Sports Editor for Mediaite. Follow him on Twitter (@joe_depaolo)
This is an opinion piece. The views expressed in this article are those of just the author.
Joe DePaolo - Senior Editor